Egypt's lantern-makers threatened by imports from China
By Yolande Knell
BBC News, Cairo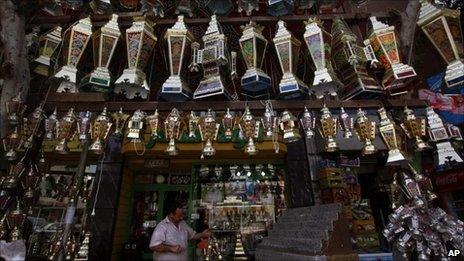 Brightly-coloured lanterns are strung across Egyptian streets and lighting up homes and offices as part of celebrations for the Islamic holy month of Ramadan.
The lantern - or fanoos - is an enduring symbol of the festivities and dates back more than 800 years.
Craftsmen make them from tin and glass and have passed down the trade from generation to generation.
In the run-up to Ramadan they can be found hard at work in the noisy, narrow alleyways close to Bab Zuweila in Cairo's old city.
"We start with tin sheets then we cut them, then another worker bends the sides and makes a ring to go around them and another assembles it," explains Ahmed al-Sunni as he squats over an open flame welding the metal.
"After that a glazier cuts the glass and we colour it and stamp it."
Ahmed's 21-year-old son, Ali, has been making his own set of decorated lanterns in what is known as a "watermelon" style - tinted red and green.
It is a point of pride for him to do the job well.
"We wait for this time from year to year," says Ali. "This is the high season when we make money at Ramadan. During this period, I sleep for just three hours a day."
The lanterns go on sale across the country but many people still enjoy coming to the old city to make their purchases.
Stalls are stacked high with hundreds of lanterns, some bigger than the customers.
"You know it's something special," remarks one shopper. "Just like Christians have a Christmas tree, we have the lantern for Ramadan."
But in recent years, cheap, plastic lanterns and lantern-themed toys imported from China have become more popular with Egyptian children.
Most run on batteries. Some move or light up and play tinny musical tunes.
"Everything is from China," says Um Duwai, who sells the modern lanterns. She grins as she points out this year's best-sellers.
"There is one shaped like a mosque with lights and these ones which look like Hassan Shehata [the Egyptian football coach] and [the football player] Abu Treika. He is most popular."
"Our bride doll is also beautiful," she adds. "And we have Inspector Columbo from the TV. We were asking for it this year. Every year the Chinese make something new."
While the Chinese goods are fun, they have many critics who fear they could lead to the demise of a long-cherished, local tradition.
"The traditional lanterns are threatened by Chinese lanterns," says journalist Ahmed el-Dereiny who has studied the history.
"Ramadan in Egypt has a different spirit in terms of meals, festivities, prayers and so on. Lanterns are part of the festivities. They are a purely Egyptian Ramadan tradition."
The exact origin of the lantern as a Ramadan symbol is not clear.
Some trace it to the early Fatimid Caliph, Al Muaz Liddinallah, who is said to have been greeted by people carrying lanterns when he became ruler.
They were used to light mosques and outside terraces as guidance for night prayers in Ramadan from about this time.
Others say the custom began because children carried the candle-lit lanterns in front of women when they went out in the evening during Ramadan.
Many traditional children's songs refer to lanterns.
Back in the alley, the al-Sunnis admit that Chinese imports have damaged trade in recent years, but believe their lanterns will stand the test of time.
"The Chinese product lasts for a short while but it's expensive. If you have two children you could pay 100 Egyptian pounds ($17; £11), but they will only work for as long as two batteries," the older Mr al-Sunni says.
His son says that their hand-made lamps could themselves benefit from international trade.
"The Chinese thought they could compete with the local Egyptian lanterns but it hasn't worked," he says.
"Arab nations, Europeans and Muslim communities all over the world are now importing from us."