Iraqi police targeted in a spate of checkpoint killings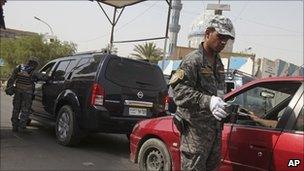 Gunmen have killed four Iraqi police officers in a spate of shootings at security checkpoints in Baghdad.
Two members of a government-supported militia have also been killed in a checkpoint attack.
In one of the attacks, two officers were shot dead as they slept in their car and their vehicle was set on fire.
There are thousands of policemen in Baghdad so the overall effect on security is not huge. But the point of these attacks is to spread fear.
One of the latest attacks was particularly chilling - men with pistols fitted with silencers shot dead two policemen while they were off duty, asleep in their car, according to one report. The gunmen then set fire to their bodies.
Two more policemen were killed when gunmen attacked another checkpoint.
Two members of the official Sahwa militia were also killed in a checkpoint attack.
The Sahwa are known as "awakening groups" - mostly Sunni Iraqis who once supported al-Qaeda in Iraq, but then changed sides.
Al-Qaeda militants are believed to be behind numerous such revenge attacks over the past few months.
These events, though relatively minor compared with the routine suicide car and truck bomb attacks of a few years ago, may be designed to unsettle the Americans as they prepare to conclude what they call "combat operations" at the end of this month.
On Saturday, two American generals told the Los Angeles Times that it was inconceivable that the Iraqi security forces would be ready to stand alone after all American troops leave at the end of next year.
Related Internet Links
The BBC is not responsible for the content of external sites.