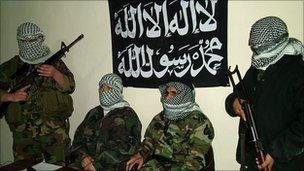 Fatah al-Islam emerged in November 2006 when it split from Fatah al-Intifada (Fatah Uprising), a Syrian-backed Palestinian group based in Lebanon.
But it first came to prominence in 2007 when it began fighting the Lebanese army from its stronghold in the Nahr al-Bared refugee camp near the northern port city of Tripoli.
More than 400 people, including civilians, died in three months of clashes between the two sides before the Lebanese army took control of the camp.
All but 30 of Fatah al-Islam's estimated 200 fighters were killed in the clashes, some reports said.
The violence, which also caused more than 30,000 Palestinian refugees to flee the camp, was at the time Lebanon's worst internal strife since the 1975-1991 civil war.
Since the battle at the refugee camp, the group is believed to have been behind a 2007 attack on UN peacekeepers monitoring the southern Lebanese border with Israel.
It was also blamed for a campaign of bombings in 2007 and 2008 targeting Lebanese police around Tripoli.
Palestinian refugee camps in Lebanon are often a haven for armed groups. Lebanese security forces do not enter the camps, only guarding their perimeters.
But it is unclear to what extent the group has rebuilt its strength after Nahr al-Bared.
Fatah al-Islam was formed by Palestinian militant Shaker al-Abssi.
Abssi is believed to be the original connection between Fatah al-Islam and al-Qaeda.
He was a close associate of Abu Musab al-Zarqawi, the former leader of al-Qaeda in Iraq, with whom he allegedly helped plan the assassination of a US diplomat, Laurence Foley, in Jordan in 2002.
The two men were later sentenced to death in absentia for the crime.
Abssi said that his group has no organisational links to al-Qaeda, but agrees with the Sunni Islamist militant group's aims and ideology of fighting and killing non-Muslims.
Fatah al-Islam's statements have also appeared on Islamist web sites known for publishing al-Qaeda statements.
Lebanese authorities believe Abssi escaped the Nahr al-Bared camp the day before it was stormed by the army.
He has not been seen or heard from since, he was presumed to have fled the country, and is now said to be dead.
After Abssi's disappearance, the group announced they had elected Abd-al-Rahman Awad as its leader, but gave no further details.
Awad was killed in a hail of bullets at a checkpoint in August 2010, while travelling with an aide under a false identity in the Bekaa valley.
The group's leaders said Fatah al-Islam has two main aims: reform of the Palestinian refugee community in Lebanon in line with Islamic Sharia law, and confronting Israel.
The group also aims to drive the US and its interests out of the Islamic world.
The Lebanese government has linked Fatah al-Islam to the Syrian intelligence services. Syrian officials and Fatah al-Islam deny the connection.