Settlers and Palestinians remember 2005 Gaza pullout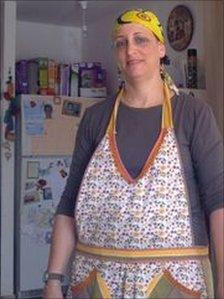 Neve Dekalim was once the largest Israeli settlement in the Gaza Strip. Now it is mostly sand and rubble.
Palestinian trucks are taking away the last of what remains of the Jewish homes, to use as building material.
The evictions from Neve Dekalim took place five years ago today under then-Prime Minister Ariel Sharon's unilateral disengagement plan.
In all, some 9,000 Israelis were evacuated from 21 Jewish settlements.
Celia Goldstein, a British-born settler, was one of the last to leave Neve Dekalim.
The BBC filmed her at the time, stockpiling food, unwilling to believe that the government which had encouraged her to go to Gaza, and which had for decades defended her right to live there, was forcing her out.
Today, she says that nothing was gained for Israel by disengagement.
"Terrorists are firing over missiles in an easier way now because we were a buffer and now we are not," she told me.
"The missiles are falling further and further into Israel. If peace would have come out of this, we would have said it was worthwhile, but nothing came out of it."
Some of the settlers went quietly in 2005, although they felt bewildered and betrayed by their own government.
Some put up a fight, calling the security forces anti-Semites and even Nazis, making the soldiers literally carry them out of Gaza.
This was a traumatic event in Israel's recent history.
Five years on, Mrs Goldstein is still living in temporary accommodation, half an hour's drive north of the Gaza Strip.
She clings to the utterly unrealistic hope that her government will one day return the settlers to Gaza.
For the Palestinians, disengagement was a moment of triumph and joy.
But Israel retains control over Gaza's borders, airspace, coastline, power supplies, imports and exports.
"When the Jews left, we hoped Gaza would open up to the outside world," said Adel al-Najjar, a Gaza carpenter. "[But] Gaza was under siege from the minute they went. It is like they closed a big cage and left."
He pointed at bandsaws in his workshop dating from the 60s and 70s. He had to repair them every six months, he explained, as he still could not import new machinery.
"We hoped we would live better than we did before 2005 - but now everything is worse."
Disengagement did remove one obstacle to peace - the settlers' presence on occupied Palestinian land in Gaza.
But the optimism of 2005, such as it was, has evaporated and Gaza today is completely outside the peace process.
That is a result of the rise to power of Hamas and the boycott of it by Israel and the international community.
But even in 2005, critics of disengagement said it was being used by the Israeli government as a substitute for a peace agreement with the Palestinians.
Ariel Sharon's senior adviser Dov Weisglass called disengagement "formaldehyde" for the peace process.
"When you freeze that process, you prevent the establishment of a Palestinian state," he said while disengagement - or separation as Mr Sharon sometimes called it - was being debated.
One significant fact of disengagement was that it did not lead to Israelis shooting at each other, as some had predicted.
That is important because what happened in Gaza will be repeated on a much larger scale in the West Bank if peace is ever agreed between Israel and the Palestinians.
Still, the opportunities missed since 2005 mean there is little immediate prospect of that.