Last Palestinian linked to 1972 Munich massacre dies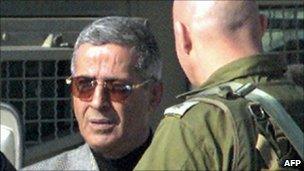 A funeral has been held for a Palestinian said to have been involved in the 1972 Munich Olympics massacre in which 11 Israeli athletes died.
The ceremony for Amin al-Hindi was held in Ramallah, with Palestinian President Mahmoud Abbas and senior Palestinian leaders present. He was buried in Gaza.
Mr Hindi, who died aged 70 in Jordan on Tuesday, led the General Intelligence Service under the late Yasser Arafat.
In the 1970s, he was a security officer in the PLO's ruling Fatah movement.
He is alleged to have then also been a member of Black September, a militant offshoot of Fatah behind the Munich attacks.
Two Israelis were killed by the group at the athletes' village, and nine more died in a botched rescue attempt by the German police. A German policeman and five Palestinian gunmen were also killed.
The Palestinian envoy to Jordan, Ata Khairy, said Mr Hindi died of cancer of the liver and pancreas at the King Hussein Medical Centre in Amman.
He had slipped into a coma after undergoing surgery last week, Mr Khairy added.
With the death of Mr Hindi, there are not thought to be any more Palestinians linked to the Munich massacre still alive.
He disappeared for 22 years following the attacks, before emerging as the commander of the General Intelligence. He also served as an adviser to the Palestinian delegation during peace talks with Israel in the 1990s.
Last month, the self-proclaimed mastermind of the Munich massacre, Mohammed Oudeh - who led Black September under his guerrilla name, Abu Daoud - died in Damascus at the age of 73.
Following the attack, Israel assassinated a number of Palestinians whom it believed were involved. Oudeh survived one attempt to kill him.