Israeli and Palestinian heads await direct talks invite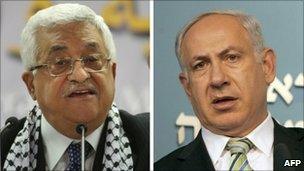 Israeli and Palestinian officials are awaiting statements from Washington and the Middle East Quartet inviting them to direct talks, the BBC has learned.
US media reports say negotiations could begin as early as 2 September, after months of indirect negotiations.
Israeli and Palestinian leaders have reportedly agreed in principle to a one-year time limit on the talks.
But prospects of a comprehensive deal are slim as serious disagreements exist on core issues, correspondents say.
Sensitive areas - including the construction of Jewish settlements and whether a future Palestinian state should be based on the 1967 ceasefire lines - will be difficult to overcome, says the BBC's Wyre Davies in Jerusalem.
Saeb Erekat, the chief Palestinian negotiator, told the BBC that he was expecting a statement from the International Quartet - the US, EU, Russia and the UN - later on Friday that would outline the basis for direct peace talks.
A subsequent statement from US Secretary of State Hillary Clinton would invite Israeli and Palestinian leaders to begin talks in Washington in early September, although final details were still being worked out, the New York Times and the Reuters news agency reported.
Israeli Prime Minister Benjamin Netanyahu and Palestinian leader Mahmoud Abbas have agreed to place a one-year time limit on the talks, The Times said, citing two unnamed officials.
Mr Abbas broke off talks with the previous Israeli Prime Minister, Ehud Olmert, in late 2008 and contacts were frozen following Israel's offensive against the militant Hamas movement in the Gaza Strip in December that year.
After a 19-month deadlock, indirect contacts resumed in May in the form of "proximity talks", which saw US Middle East envoy George Mitchell shuttle back and forth between the two sides.
Mr Netanyahu has insisted for many weeks that he is ready to come to the negotiating table, but without preconditions.
But Mr Abbas, the president of the Palestinian Authority, wants guarantees that a future Palestinian state would be based on the 1967 borders and that the construction of Jewish settlements on occupied territory in the West Bank and East Jerusalem would halt before he sits down with the Israelis.
Close to 500,000 Jews live in more than 100 settlements built since Israel's 1967 occupation of the West Bank and East Jerusalem. They are considered illegal under international law, although Israel disputes this.