Lebanese aid ship delays Gaza blockade-busting trip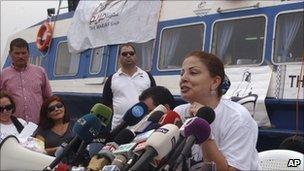 Activists hoping to break Israel's Gaza blockade in a Lebanese aid ship have postponed their trip after Cyprus refused the vessel entry.
The Mariam, which plans to sail with 50 female activists, cannot go directly to Gaza as Lebanon and Israel are technically in a state of war.
Organisers are seeking to sail via Greece, but have no new departure date.
The trip comes after Israeli commandos boarded a flotilla of Gaza-bound ships on 31 May, killing nine activists.
After intense international pressure over its raid of the Turkish Mavi Marmara, Israel eased its land blockade on Gaza, but still maintains a naval embargo.
Israel says it has the right to use "all necessary means" to bar ships from reaching Gaza, which has been controlled by the militant Hamas movement since 2007.
The Mariam, a Bolivian-flagged cargo ship, was to have left from Tripoli in northern Lebanon on Sunday for Cyprus on the first leg of a crossing to Gaza.
"The trip has not been cancelled but delayed," organiser Samar al-Hajj told a news conference in Tripoli, as efforts continued to secure authorisation from another state to dock before leaving for Gaza.
Cyprus was used as a launch pad for activists trying to reach Gaza by sea from 2008 until mid-2009. The authorities introduced a ban last year, citing the island's national interests.