Iran suspends officers over Kahrizak jail deaths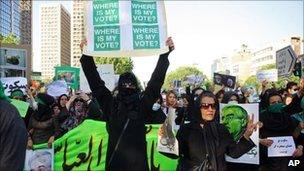 Iran has suspended three judicial officers over their alleged role in the killing of anti-government protesters in prison last year, reports say.
The move clears the way for the trio, who were not named, to face trial.
It comes two months after a military court sentenced two prison officials to death in connection with the killings.
At least three protesters died after a series of beatings in Kahrizak jail, where they were held for taking part in last year's election protests.
The protesters have been named as Amir Javadifar, Mohsen Ruholamini and Mohammed Kamrani.
Iran's supreme leader Ayatollah Ali Khamenei ordered the closure of Kahrizak jail in July, following widespread outrage in Iran over reports of abuse.
More than 150 demonstrators were arrested and taken to Kahrizak detention centre, south of Tehran, in the aftermath of street protests against President Mahmoud Ahmadinejad's disputed re-election in June 2009. Opposition supporters claimed the vote was rigged.
The opposition says more than 80 protesters were killed in the crackdown. The government has confirmed about 30 deaths.
Iran has also hanged two activists it said were guilty of "war against God", a charge levelled at those who protested against the disputed election of Mr Ahmadinejad.