Mideast press split on direct talks
The US invitation for the resumption of direct peace talks between Israel and the Palestinians in Washington next month has provoked a mixed response from the press on both sides.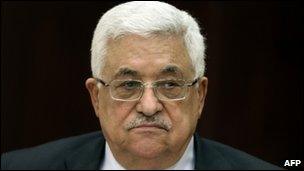 In the Palestinian papers, several commentators defend the participation of President Mahmoud Abbas in the talks, with one saying that his people are in "a delicate political situation". However, another, writing in a Hamas-run paper, says the talks would benefit the resistance by "exposing" both Mr Abbas and Israeli Prime Minister Benjamin Netanyahu.
In Israel, one commentator dismissed the talks as an empty photo opportunity, while another accused Washington of being out of sync with developments in the Middle East. Other papers were also pessimistic about how Mr Abbas and Mr Netanyahu would come out of the talks.
ADNAN AL-SAYYID IN PALESTINIAN PRO-FATAH AL-QUDS
The fact that the Palestinians have returned to the negotiations under Arab and international pressure doesn't mean they have waived their demands for specific terms of reference and for a timetable for the negotiations. The Palestinians will follow up on these negotiations… and hope that they will lead to an agreement that meets their legitimate national demands.
ADIL ABD-AL-RAHMAN IN PA-OWNED AL-HAYAT AL-JADIDAH
President Mahmoud Abbas and those around him did not return to the direct talks because they love Israel or because they want to negotiate. Rather, they felt that the Palestinians are in a delicate political situation… which should make all Palestinian factions support him.
SAMIH SHUBAYB IN PALESTINIAN PRO-FATAH AL-AYYAM
Palestinian negotiators are in a difficult situation and they have to wage a vicious political battle against Israel, alone and without any international or regional support. It goes without saying there's a need for a clear position and to inform people of it... To a degree, we were in a similar position after the Camp David negotiations, where there were different visions that ended in a collision leading to the start of the second intifada.
MUHAMMAD JAMAL ARAFAH IN HAMAS-RUN FILASTIN
The only benefit from the resumption of direct talks is the exposing of Netanyahu. He will be forced to disclose his views on issues of the Palestinian state's borders, the final status of Jerusalem and the future of the settlements. However, he could continue to be elusive and make vague statements about peace, coexisting with the Palestinians and improving their standard of living. The resumption of talks augurs well for the resistance, because it will completely expose the Palestinian Authority.
SMADAR PERI IN ISRAEL'S YEDIOTH AHRONOTH
Wait for the next thrilling picture the White House will pass next Wednesday [1 September]: six mummified men in dark suits with smiles from ear to ear… A king (of Jordan), two presidents (Obama and Mubarak), a president without a state (Abbas), a prime minister (Netanyahu, who cannot and has no intention of giving the president a state) and a former prime minister (Tony Blair)... A Palestinian state?… A state can only be established in the West Bank with settlers, with the IDF in the area and an international force.
SHMUEL ROSNER IN ISRAEL'S MA'ARIV
It's easy to be a pessimist when it comes to the Israeli-Palestinian peace process as failure is the default choice - success would be a one-off, surprising, exception. And yet a fitting question is why the Obama administration thinks that this is the 'right time'? … The first two years of the Obama era do not give reason for much hope... The talks train has left and the driver's a president whose timetable is not matched to developments in the Middle East.
It has taken Herculean efforts and diplomatic cunning for the Obama administration to bring Israel and the Palestinian Authority together for direct talks. Indeed, Israelis and Palestinians are entering the talks next month on different working assumptions… Abbas had held out for a complete freeze of settlement construction… a demand which was rightly rejected … Abbas' many critics within the PA are now accusing the PA president of caving in to US and Israeli demands... None of this is a harbinger of future success.
Netanyahu is pleased: the US administration and Arab League… pushed Abbas to revive direct talks with Israel "without preconditions"... Soon it will be clear to everyone whether his move was an empty one, designed to buy time and ease international criticism of Israeli actions in the territories, or whether he is ready for a compromise leading to the creation of a Palestinian state… By expressing doubt at yesterday's cabinet meeting about whether there was a 'genuine partner on the Palestinian side', Netanyahu showed he is preparing an escape route from being blamed for the failure of the talks before they have even begun.
BBC Monitoring selects and translates news from radio, television, press, news agencies and the internet from 150 countries in more than 70 languages. It is based in Caversham, UK, and has several bureaux abroad.
Related Internet Links
The BBC is not responsible for the content of external sites.