'Al-Qaeda gang' held over Iraq traffic police killings
By Hugh Sykes
BBC News, Baghdad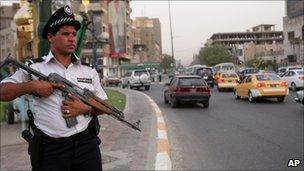 Iraqi police have broken up an alleged al-Qaeda gang whose members have been killing traffic police in Baghdad, officials say.
Nine men and three women have been arrested. The Interior Ministry says they confessed to the shootings.
About 20 traffic policemen have been shot dead over the past three weeks.
The ministry says the operation shows how strong the police are - and that they are ready to handle security in Iraq when the Americans have gone.
At a news conference late on Sunday night, the interior ministry played two edited video recordings of what they said were confessions by members of the Islamic State of Iraq, a branch of al-Qaeda.
The man, who said his name was Ali, said he helped mount numerous insurgency operations in Baghdad - setting five roadside bombs in position and shooting traffic policemen.
He said there were five cells, usually with four insurgents in each.
On one operation last week, filmed from a distance by the Islamic State of Iraq, he said that he was the driver, and that he and three others - including the cell leader Qusay - drove to a police checkpoint, stopped the car, ran out, killed two policemen and set fire to their vehicle. The video shows all this clearly.
The ministry of the interior says they received intelligence about these men.
They followed them around Baghdad, and then raided their apartment.
There they found and filmed magnetic bombs ready to use, a fuel tank being adapted to carry explosives, fake ID cards, false vehicle licence plates, mobile phones for detonating bombs and ball bearings to pack around explosives to act as shrapnel.
They believe the women who were arrested acted as couriers for the cells, taking weapons and material through checkpoints. Women are subject to far less stringent searches than men.
The man named Ali says they decided to kill policemen to show how weak the security forces are in Baghdad.