Iran stands firm over Ashtiani stoning case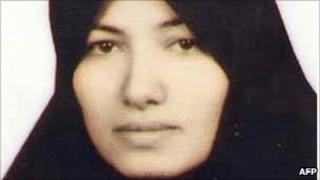 Foreign powers should stop interfering in the case of an Iranian woman who was sentenced to death by stoning, Iran's foreign ministry has said.
In Tehran, a spokesman said the case of Sakineh Mohammadi Ashtiani "should not become a human rights issue".
She is accused of murder and adultery and faces death or life in prison.
The sentence has led to widespread criticism, the latest from EC President Jose Manuel Barroso, who called it "barbaric beyond words".
Speaking in France, Mr Barroso said: "We condemn such acts, which have no justification under any moral or religious code."
Lashes
However, Tehran's foreign ministry dismissed Western concerns about Iranian justice.
"Unfortunately, [they are] defending a person who is being tried for murder and adultery," spokesman Ramin Mehmanparast said at a Tehran news conference.
"If releasing all those who have committed murder is to be perceived as a human rights issue, then all European countries should release all the murderers in their countries," he was reported as saying.
Ms Ashtiani, a 43-year-old mother of two, was condemned to death for illicit sex and charged with involvement in her husband's murder.
After criticism from foreign nations, there were reports in July that Iranian officials may have temporarily halted her stoning sentence. However, she still faces the possibility of death by hanging, or life imprisonment.
Her case is now being reviewed by Iran's Supreme Court. It remains stayed pending a final decision by the judiciary, Mr Mehmanparast added.
According to her son, Iranian authorities have also sentenced Ms Ashtiani to 99 lashes after the publication in the Times newspaper in the UK of a picture purportedly of her without a headscarf.
The Times later published a correction, saying the photograph was of a different Iranian woman.