Iran denies 'secret atomic plant'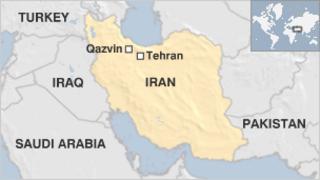 Iran has rejected allegations by a dissident group that it is building a secret uranium enrichment site.
The People's Mujahideen of Iran (PMOI) says it has satellite images of the facility, 120km (75 miles) from Tehran.
But nuclear chief Ali Akbar Salehi insisted Iran had declared all of its activities to the International Atomic Energy Agency (IAEA).
US officials said they knew about the plant but did not believe it had a nuclear function.
The PMOI and allies from another exiled group, the National Council of Resistance of Iran, have revealed secret nuclear facilities in the past.
But they have also made exaggerated and mistaken allegations, and analysts say they have a clear political agenda.
The PMOI has released images it says show a tunnel facility under construction near Qazvin, and cites sources within Iran as confirming that the plant is a uranium-enrichment facility.
The same sources claim that the plant is 85% complete.
But Mr Salehi dismissed the allegations, telling the semi-official Mehr news agency: "We have no such installations where we enrich uranium.
"If they really are aware of such an installation, perhaps they would like to tell us about it so that we can thank them."
The international community fears that Iran is seeking to build an atomic weapon, but Tehran insists its nuclear programme is aimed purely at providing energy.
The IAEA has repeatedly accused Iran of failing to comply with its inspectors' demands, and the UN has put sanctions on the country.