Israel rewards nanny who saved boy in Mumbai attacks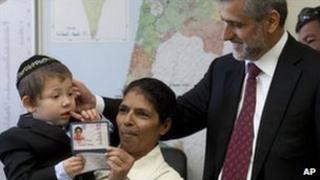 Israel has granted honorary citizenship to an Indian woman who saved the life of an Israeli boy during the 2008 Mumbai terror attacks.
Sandra Samuel found two-year-old Moshe Holtzberg standing by the bodies of his parents in Chabad House, a Jewish centre in the city, where she worked.
Ms Samuel later escorted the boy to Israel where he has extended family and has been caring for him there since.
Ms Samuel has now been granted the right to live in Israel permanently.
She was also given a bravery certificate, which Interior Minister Eli Yishai presented to her personally.
'Learning Hebrew'
Ms Samuel, a widow, gave up her life in India and left her two sons to move to Israel and continue caring for Moshe.
At a news conference, in which she showed off her new Israeli identification card, Ms Samuel said that the youngster was now helping her learn Hebrew:
"Moshe teaches me Hebrew, and if I don't pronounce it properly, he keeps on repeating it, that I say it properly. He is a teacher now for me," she told Israeli Channel 2 TV.
Moshe's parents were among six people killed by gunmen at Chabad House in the Mumbai terror attacks, which began on 27 November 2008.
The luxury Taj Mahal Palace and Tower and Oberoi-Trident hotels were also targeted, along with the city's Chattrapati Shivaji train station.
The Mumbai attacks left 174 people - including nine gunmen - dead.