Hopes and fears as settlement freeze due to expire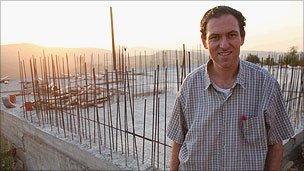 Standing on the cement foundations of what he anticipates will soon be his new home, Adi Erdan feels a rush of excitement.
His landlord has long wanted him to leave the property nearby where he currently lives with his six children. He has been waiting to begin work since November.
"Most of all I have hope. This Sunday we start to build the house," he declares. "It will take only four months."
Mr Erdan lives in Shilo, a Jewish settlement in the occupied West Bank, half-way between Ramallah and Nablus.
He got his construction permit from the Israeli defence ministry a day before the Prime Minister, Benjamin Netanyahu, imposed a 10-month partial moratorium on new residential buildings.
In the first week of the freeze he laid down the base of his house but decided not to provoke the authorities by going further.
Like many in Shilo, he is frustrated at mounting pressure on Israel, particularly from the United States and the Quartet of Middle East peace-makers to halt new settlement activity.
The Palestinians have vowed to pull out of direct peace talks if the partial ban on land they claim for a future independent state is not extended beyond 26 September.
All the settlements on occupied territory are considered illegal under international law, although Israel disputes this.
"I think that instead of being a person who builds his house I am like a toy. Also my children are like toys in a game of others that I don't understand," Mr Erdan says.
Further down the hill there is already the sound of power drills and hammers, as contractors put window frames into one of 18 new settler houses.
Construction here began before the freeze was introduced and so was allowed to continue.
The building of a synagogue and school in Shilo also went ahead as the temporary curb did not apply to public buildings the Israeli government deemed "necessary for normal life".
However, it appears that overall the restrictions - which did not apply to East Jerusalem - had a dramatic impact in reducing expansion.
"The settlement freeze wasn't complete. However it was the most far-reaching slow-down that we've seen in 40 years of occupation," says Hagit Ofran, of the Israeli group, Peace Now, which monitors and opposes settlements.
"It's important to stress that it is possible to bring Netanyahu to freeze the settlements in a way that nobody ever did before."
Official statistics show there was a rush in starting new projects late last year as the Israeli government increased the number of permits it issued before the freeze came into effect.
There was a 33% rise in new building starts in the last quarter of 2009 compared to the previous three months.
About 3,000 housing units were under way when the freeze started. Now the number is estimated at approximately 2,000.
According to Peace Now there have been dozens of violations while outpost construction has continued at a steady pace.
For Palestinians living close to the settlements, any signs of further growth are a sensitive issue.
Abdul Rahman lives in Lubban al-Sharqiya, to the west of Shilo and another settlement, Eli.
"They want to give us small, small areas everywhere - with settlements between them and they control the main street," he complains.
"For what do they need these settlements? I think just to let us feel angry."
He insists that ultimately any freeze is meaningless as nothing short of a full withdrawal by Israel to its 1967 borders will allow a viable Palestinian state and produce peace.
"We have accepted the United Nations' position. What Israel occupied from 1967 it has to draw back from," he says.
"The Israeli government, they have to choose between land and peace. They cannot get both. I want to see peace and these settlements empty."
Speculation is rife about what will happen next. Mr Netanyahu has resisted any new official extension of restrictions on settlement building that could shake his right-wing governing coalition.
Yet many believe he may be working on a compromise to try to keep the Palestinians at the negotiating table.
Whatever announcements are made, in Shilo and Lubban al-Sharqiya they will be listening carefully.