'No decision' on fate of Iranian stoning woman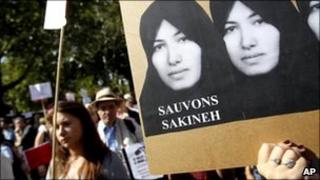 Iran's foreign ministry says no final decision has been taken concerning Sakineh Mohammadi Ashtiani, sentenced to death by stoning for adultery.
The announcement follows conflicting reports that she would hang for her husband's murder and that her stoning sentence for adultery was confirmed.
Her lawyers insist she is innocent.
The BBC's Tehran correspondent says the confusion may reflect government uncertainty over what to do, following international outrage over the case.
Speaking in New York four days ago, Iran's President Mahmoud Ahmadinejad categorically denied that Ms Ashtiani faced stoning to death for adultery. He said she was accused of murder and the case was before the courts.
Confusion
At his weekly press briefing on Tuesday, foreign ministry spokesman Ramin Mehmanparast said Ms Ashtiani's case was still under review and that the courts were considering two issues - her participation in murder and her adulterous relationships.
"Right now what we are pursuing is the topic of murder, and her participation in murder is confirmed," he said.
"The proceedings have not been completed as yet and the conviction will be issued after full review of the case."
Earlier, the semi-official Mehr news agency in Tehran said Sakineh Mohammadi Ashtiani had been sentenced to death by hanging for the murder of her husband.
But another news agency, Isna, said her stoning sentence had been confirmed, and she had also been given a 10-year jail term for complicity in the murder.
Both agencies had cited Iran's prosecutor general, Gholamhoseyn Mohseni Ezhei, as the source of the reports.
In recent weeks, Iranian media have been portraying her as a common murderer, rather than an adulterer, as a way of trying to deflect international pressure over the stoning sentence, the BBC's Tehran correspondent Jon Leyne says.
Her lawyers insist she was never convicted of murder, and possibly never even charged with it.
Ms Ashtiani was originally convicted in May 2006, when a criminal court in East Azerbaijan province found her guilty of having had an "illicit relationship" with two men following the death of her husband. She was given 99 lashes.
But that September, during the trial of a man accused of murdering her husband, another court reopened an adultery case based on events that allegedly took place before her husband died.
Despite retracting a confession she said she had been forced to make under duress, Ms Ashtiani was convicted of "adultery while being married" and sentenced to death by stoning.
Officials suspended her stoning sentence in July, and reports of a murder trial then emerged.