Mitchell and Ashton bid to save Middle East peace talks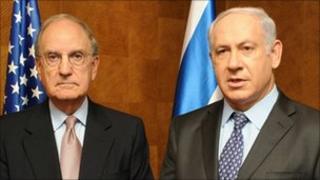 US Middle East envoy George Mitchell has met Palestinian leader Mahmoud Abbas amid fears that the relaunched peace talks could collapse.
Top EU diplomat Baroness Ashton is also due in the region for crisis talks.
The Palestinians have threatened to quit the talks unless Israel extends its partial freeze on settlement building that expired on Sunday.
Palestinian negotiators have repeated their position that they would "not accept a compromise" on the issue.
Israeli Prime Minister Benjamin Netanyahu has said that his right-wing coalition could fracture if the construction freeze is extended.
Mr Abbas has indicated that he would make a decision about continuing with the talks after a meeting of Arab leaders in Cairo on Wednesday.
The meeting was pushed back by two days to give more time for efforts to save the peace talks, an Arab League spokesman said.
'No compromise'
Speaking after his two-hour meeting with Mr Abbas in Ramallah, Mr Mitchell said he would continue "intensive" efforts to find common ground between the parties, adding that he would meet the Palestinian leader again on Friday.
The Palestinians say the negotiations, which resumed in Washington just four weeks ago, are pointless if growing settlements keep eating away at lands they claim for a future Palestinian state.
"We will not accept a compromise on the settlement issue," Palestinian negotiator Nabil Shaath said in a statement on Wednesday quoted by the Palestinian Maan news agency.
He said Israel should be blamed for any breakdown of the negotiations if it insists on expanding settlements on occupied Palestinian land.
Meanwhile, Lady Ashton was due to embark on two days of talks with Palestinian and Israeli leaders.
Prior to her arrival in the region, she reiterated in a statement that the European Union regrets Israel's decision not to extend its 10-month slowdown on West Bank housing starts. The US has already expressed disappointment at the lapse.
Late on Wednesday, Egyptian Foreign Minister Ahmed Abul Gheit said he was not optimistic that talks would succeed "as long as the circumstances remain the same".
Hamas, which controls the Gaza Strip and is not taking part in the talks with Israel, has urged Mr Abbas to withdraw from them.
Israel has occupied the West Bank since the Middle East war of 1967, settling some 500,000 Jews in more than 100 settlements which are held to be illegal under international law, although Israel disputes this. About 2.5 million Palestinians live in the West Bank.