Palestinians mull talks walk-out over settlements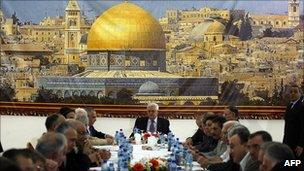 The Palestinian leadership has said it will not continue peace talks with Israel unless a freeze on Jewish settlements in the West Bank resumes.
Palestinian Authority President Mahmoud Abbas met political leaders after settlement building resumed this week.
"The leadership confirms that the resumption of talks requires tangible steps, the first of them a freeze on settlements," said senior Palestinian official Yasser Abed Rabbo.
Israel said the talks should continue.
After the meeting of Palestinian leaders in Ramallah in the West Bank, Mr Abed Rabbo accused Israel of "obstructing the negotiations".
The BBC's Wyre Davies in Jerusalem says the statement requiring a freeze on settlement building is a reaffirmation of the Palestinian position, but is also a reminder that time is running out.
Israeli Prime Minister Benjamin Netanyahu appealed to the Palestinians not to leave the negotiations.
"I call on President Abbas to continue the good and sincere talks that we have just started, in order to reach an historic peace agreement between our two peoples," he said in a statement on Saturday.
The Palestinians are not expected to make a final decision until after an Arab League meeting due to take place in Libya next week.
Meanwhile, US envoy George Mitchell is visiting Arab countries in an attempt to secure wider backing for continued peace negotiations.
Israel refused to extend a 10-month ban on settlement building in the West Bank which expired last Sunday.
Mr Netanyahu has said a further freeze could fracture his right-wing coalition government, which is dominated by pro-settlement parties, including his own Likud bloc.
Israel has occupied the West Bank since the Middle East war of 1967.
About 500,000 Jews now live in more than 100 settlements which are held to be illegal under international law, although Israel disputes this. About 2.5 million Palestinians live in the West Bank.
The Islamist movement Hamas, which controls the Gaza Strip and is not taking part in the talks, has urged Mr Abbas to withdraw.
Direct talks between Israel and the Palestinians resumed in September after a break of nearly two years.
Related Internet Links
The BBC is not responsible for the content of external sites.