Jordan jails Islamist leader and nine accomplices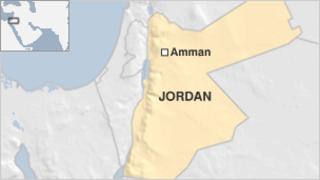 A Jordanian military court has jailed the leader of an Islamic militant group, Nabil Mohammed Amer, for life for plotting attacks.
Nine other men were sentenced to 15 years each for their roles in the plots.
The men, who are all Jordanian and Palestinian, were convicted of planning attacks against Jordan's army and intelligence service last year.
No attacks were actually carried out.
Court papers say they intended to force the release of a female Iraqi bomber who took part in a 2005 hotel attack in the Jordanian capital Amman, which killed 60 people.
Sajida al-Rishawi was sentenced to death in 2006 over the failed suicide bombing. She faces execution by hanging under Jordanian law.
The indictment says the 10 men also planned to kidnap intelligence officers, and attack liquor stores and vehicles carrying supplies for US troops in neighbouring Iraq.
They can appeal against the verdicts.