Syrian teenaged girl Tal al-Mallohi 'accused of spying'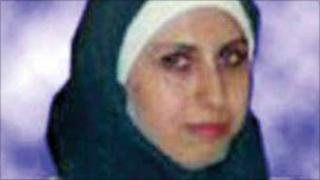 Syria has accused a teenaged girl, held without charge for nine months, of spying, officials say.
The case of Tal al-Mallohi, a 19-year-old student blogger, was highlighted by international rights groups last month.
Syrian sources say she is due to appear in court in the next few days on charges of spying for a foreign power.
Ms Mallohi has been denied access to a lawyer. Her parents were allowed to see her for the first time in nine months on Thursday, rights groups say.
Her father, Dosar al-Mallohi, told The Associated Press news agency that she was in good health and that she had not yet been formally charged, but declined to comment further.
'Arbitrary detention'
"She was detained on the accusation of spying for a foreign country," a Syrian official told AP, confirming similar reports in the local press.
"Her spying led to an attack against a Syrian army officer by the agents of this foreign country," he added, declining to elaborate further.
The head of the Syrian League for the Defence of Human Rights, Abdel Karim Rihawi, said that Ms Mallohi was expected to appear in court in the next few days. He called for an open and impartial trial.
It is not clear whether Ms Mallohi's arrest is connected to her blog, which contains poetry and social commentary that focuses mostly on the suffering of Palestinians.
Last month, the New York-based Human Rights Watch called for the young woman's immediate release.
"Detaining a high school student for nine months without charge is typical of the cruel, arbitrary behaviour of Syria's security services," Sarah Leah Whitson, Middle East director at Human Rights Watch, said in a statement.
Amnesty International has expressed fears that Ms Mallohi is at risk of torture, saying it has documented 38 different types of torture and ill-treatment used against detainees in Syria.