Rabbis condemn attack on West Bank mosque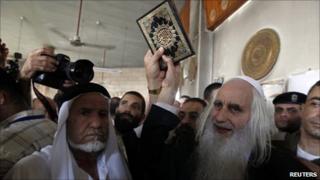 Rabbis from Jewish settlements have given a box of Korans to a West Bank mosque as a gesture of solidarity after an arson attack blamed on settlers.
Palestinians cheered as the rabbis and other settlers arrived at the village of Beit Fajjar in bulletproof cars accompanied by Israeli soldiers.
They were welcomed by the local imam.
The attackers set fire to a carpet and a dozen Korans in the mosque and wrote Hebrew slogans on the walls. The army has vowed to find the perpetrators.
'Horror'
The residents of Beit Fajjar allege that a group of settlers from the nearby Gush Etzion settlement bloc entered their village on Monday and set light to its mosque in a bid to derail the Middle East peace process.
"Mosques, we burn," said a warning spray-painted on a door.
On Tuesday, a delegation including the prominent Rabbis Menachem Froman from Tekoa and Aharon Lichtenstein from Gush Etzion, visited the ancient mosque in a show of solidarity and condemned the attack.
They brought with them about a dozen copies of the Koran.
"Our goal is to share our horror at the attack of the mosque and to clearly state that this is not the way of the Torah or the Jewish way," said Rabbi Shlomo Brin of the Yeshivat Har Etzion.
"This act does nothing for the settlements; it is morally and religiously wrong and is offensive to its core," he added. "This is not how we educated our children; Islam is not a hostile religion even if we have a dispute with some of its followers."
The governor of Bethlehem, Abdel Fatah Hamayel, said: "We welcome the Jews to Beit Fajjar so they can see with their own eyes the crime that was committed in this mosque, which was against humanity and against religion."
Close to 500,000 Jews live in more than 100 settlements built since Israel's 1967 occupation of the West Bank and East Jerusalem. They are considered illegal under international law, although Israel disputes this.
Some hardline settlers advocate a policy of setting what they call a "price tag" on any Israeli government policies they see as threatening settlements, including a recently expired partial freeze on construction in the West Bank, and the forced evacuations of unauthorised settlement outposts.
In April, a mosque was vandalised with Hebrew graffiti, cars were burnt and olive trees uprooted in the village of Hawara, near the Yitzhar settlement. And in May, a mosque in the village of Lubban al-Sharqiya, near Nablus, was gutted in a fire. No charges have yet been brought.
Direct peace talks between the Israeli government and the Palestinian Authority resumed in September after a break of 20 months.