Israel arrests two Muslim clerics over 'terror links'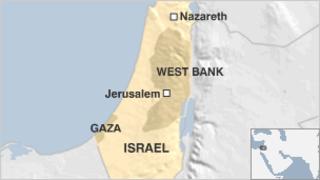 Israeli police have arrested two Muslim clerics on suspicion of having links to terror groups.
The men, both from the northern Israeli town of Nazareth, are accused of "being involved in supporting terrorism," said police spokesman Micky Rosenfeld.
One of the men, Nazem Abu Slim, was reported to be an imam at a mosque in the town known for preaching a radical version of Islam.
The second man, Shaykh Nazem Abu Salim, reportedly attends the mosque.
Mr Rosenfeld gave no further information on the arrests as the case was subject to a gagging order.
Israeli media reported that the men had been trying to encourage worshippers at the mosque to join militant Islamist groups.