Israel 'to ease restrictions for Palestinian athletes'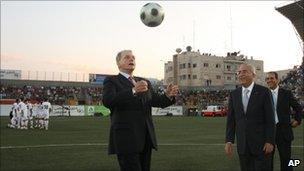 Israeli Prime Minister Benjamin Netanyahu has promised to ease travel restrictions on Palestinian athletes.
This comes after the International Olympic Committee (IOC) president, Jaques Rogge, urged Israel to allow freedom of movement for Palestinian sportsmen and women.
Palestinian officials say their athletes routinely face difficulties in trying to reach national or international competitions.
Israel denies it targets athletes.
Mr Rogge met Palestinian leaders on his first visit to the West Bank on Tuesday.
He also watched an exhibition football match from which the Palestinian team captain, Ahmed Kashkash, was absent because Israeli officials had not let him enter the West Bank from neighbouring Jordan.
Palestinian officials say travel is particularly difficult for sports competitors based in the Hamas-controlled Gaza Strip.
The IOC chief spoke to Mr Netanyahu on the phone on Thursday and a statement released by the Prime Minister's office afterwards said he had "promised to find ways to ease entry and exit requirements for Palestinian athletes".
At a press conference in Tel Aviv later, Mr Rogge invited representatives to IOC headquarters in Lausanne to discuss further co-operation.
He told reporters: "We understand that there are security measures to be respected and that is very important but we have pleaded to have a relaxation or facilitating these travels on the other hand."
He also pledged his support for Israeli athletes who have faced boycotts in international competitions.
Related Internet Links
The BBC is not responsible for the content of external sites.