Confusion surrounds Arab peace talks summit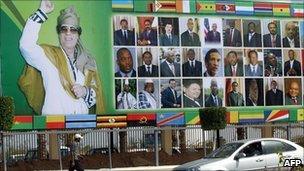 Libya's leader, Col Muammar al-Gaddafi, is said to be very fond of hosting grand, elaborate summits - especially in his home town of Sirte, on the country's arid desert coastline.
The "main course" here this week has certainly been very grand and very laudable - a meeting of African and Arab leaders to discuss, among other things, a forum to build an African-Arab economic power.
But the hundreds of journalists who have spent a fair bit of time and effort trudging out to this rather remote conference centre, were expecting headlines from one of the side-shows - a "follow-up" committee meeting to discuss the fate of the stalled peace talks between Israel and the Palestinians.
A few days ago, Palestinian leaders said they could not continue talking to Israel while building continued in Jewish settlements on Palestinian land and it seemed the whole issue would come to a head here in Sirte.
Things are now, perhaps predictably, not so clear.
The expectation that the Arab League (in support of the Palestinians) might bring an axe down on the whole peace process by formally signalling their opposition to the continuation of talks may now be receding.
To be honest, nobody on the outside really knows what is going on - not even here among the hundreds of mainly Arab journalists just yards from the committee rooms where Palestinian President Mahmoud Abbas is hidden away in meetings with his Arab brothers.
Regional papers are full of rumours that the long-suffering Palestinian leader is about to announce his resignation - but he has done that before and has been persuaded to step back from the brink.
There is an acknowledgment now that time is running out, on Mr Abbas' political career and on the fragile peace process.
But behind the scenes in recent days, American negotiators have been urging Arab leaders to give the talks one more chance - saying that to withdraw their backing at this stage would be premature.
If, at the end of this extraordinary meeting of Arab leaders, they can show wholehearted support and empathy for Palestinian feelings over the settlements, but still express a desire to see the talks process continue - then American pressure and diplomacy will have succeeded, for now.
Related Internet Links
The BBC is not responsible for the content of external sites.