US given one-month deadline to rescue Mid-East talks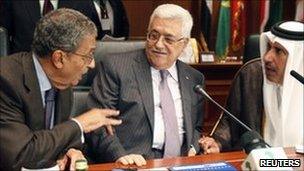 Arab League foreign ministers have given the US one month to rescue deadlocked Middle East peace talks.
At a meeting in Libya, they endorsed a decision by the Palestinian negotiators to stay away unless Israel restored a partial settlement construction freeze.
But the ministers said the US had to be given more time to break the impasse.
The direct negotiations, the first in almost two years, resumed in September but later stalled when Israel refused to extend the freeze in the West Bank.
Palestinian Authority President Mahmoud Abbas attended the meeting of Arab League foreign ministers in the Libyan city of Sirte.
Afterwards Qatari Foreign Minister Sheikh Hamad bin Jassim bin Jabr al-Thani, who chaired the meeting, told reporters: "The committee endorses the decision of President Abbas to stop the talks."
"It urges the American side to pursue its efforts to prepare adequate grounds and circumstances to resume the peace process and put this peace process back on the right track, including stopping settlements," he added.
The Arab League ministers are now due to meet again in a month's time to review the situation.
The US state department later said: "We appreciate the Arab League's statement of support for our efforts to create conditions that will allow direct talks to move forward."
Israeli Prime Minister Benjamin Netanyahu has refused to extend the 10-month ban on settlement building in the West Bank which expired on 26 September.
Many countries, including the US, had urged the Israelis to extend the freeze.
Close to 500,000 Jews live in more than 100 settlements built since Israel's 1967 occupation of the West Bank and East Jerusalem. They are considered illegal under international law, although Israel disputes this.
Related Internet Links
The BBC is not responsible for the content of external sites.