OECD protest over Israeli minister's Jerusalem remarks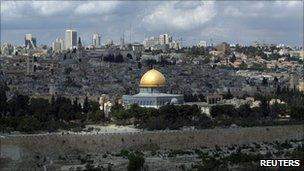 The Organisation for Economic Co-operation and Development has said it could cancel a conference in Jerusalem over remarks by an Israeli minister.
Tourism Minister Stas Misezhnikov told a newspaper the meeting was in effect the OECD's recognition of Jerusalem as Israel's undivided capital.
The OECD described the comments as unacceptable and said the meeting's location had no political implications.
Jerusalem's status is one of the most divisive issues in the Middle East.
Israel claims the city as its eternal, undivided capital, while Palestinians want East Jerusalem to be the capital of any future Palestinian state.
Mr Misezhnikov's comments come just five months after Israel was accepted as a member of the OECD.
Officials from nearly two dozen OECD member states are expected to attend the tourism conference on 20 October.
But on Saturday, OECD secretary-general Angel Gurria warned Israeli Prime Minister Benjamin Netanyahu in a letter that "in order to go forward with the meeting on the current basis, the tourism minister should correct the misperception created and put the meeting in its proper perspective".
In an interview with the Haaretz newspaper earlier this week, Mr Misezhnikov said the conference would "be a declaration of intent and affirmation that we have a state whose capital is recognised".
The Israeli tourism ministry said on Saturday that Mr Misezhnikov regretted any "misunderstanding" that his comments might have caused, and that he would send a letter of clarification to Mr Gurria soon.
Mr Misezhnikov is a member of the right-wing ultranationalist Yisrael Beiteinu party, which is led by Foreign Minister Avigdor Lieberman.
The international community does not recognise Jerusalem as Israel's capital, and most countries maintain embassies in Tel Aviv.
Correction 21 October 2010: An earlier version of this report wrongly said that the UK and Spain were boycotting the conference because it is being held in Jerusalem.
Related Internet Links
The BBC is not responsible for the content of external sites.