Rome 'crisis' talks on Middle East Christians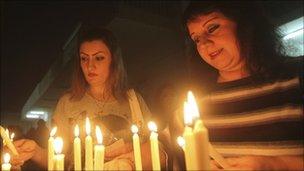 Catholic bishops from the Middle East begin talks in Rome on how to maintain a Christian presence in the lands where Jesus Christ lived and died.
A century ago, 20% of the population in the region was Christian. Today Christians account for only about 5% and their numbers are still dwindling.
This is a matter of great concern to Pope Benedict who has called the talks.
For the first time Jewish rabbis and an Iranian ayatollah will attend the two-week discussions as special guests.
Pope Benedict has called Church leaders from all over the Middle East for the discussions not only on the Palestinian-Israeli dispute, but how to combat radical Islam and how to try to stem the continuing exodus of Christians from Iraq.
A working document prepared by experts for this synod says about half of the former 850,000 Christians living in Iraq have fled their country because of sectarian violence and persecution.
In Lebanon, too, political instability is driving Christians to leave.
The Christians of the Middle East have also been weakened by centuries-old divisions.
Catholics are divided into seven different churches, each with its own traditions going back centuries.
The working document urges the different churches to work with each other in order to wield more influence in Arab societies.
It advises them to open up to other churches and faiths, to simplify their ancient liturgies, and to introduce more Arabic into their services.
The secretary of the synod, Monsignor Nikola Eterovic, told a news conference at the Vatican that although many Arab, Turkish and Iranian Christians had left the region, their place had been taken - particularly in the Gulf states - by new arrivals of Catholics from the Philippines and India.
Related Internet Links
The BBC is not responsible for the content of external sites.