Two Iraqis cleared over Red Cap murders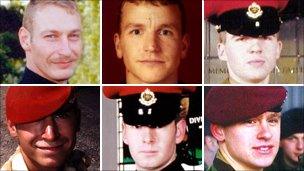 The two men accused of murdering six Royal Military Police soldiers in Iraq in 2003 have been cleared.
Iraqis Hamza Hateer and Mussa Ismael al Fartusi were acquitted at Baghdad's criminal court due to lack of evidence.
The military policemen - or Red Caps - were killed by a mob in the southern Iraqi town of Majar al-Kabir.
The Ministry of Defence said more suspects were being sought, but John Miller, whose son Simon was killed, said he was "devastated".
Cpl Miller, 21, was engaged to be married and had been promoted to corporal just before leaving for Iraq.
"My son was let down so badly in life, now he has been let down so badly in death," said Mr Miller, 59, from Washington, Tyne and Wear.
He told the BBC his feeling at hearing the verdict was "absolute shock".
He said he had understood that the "hard part was getting the accused to the actual court. And I thought it was just cut and dry from there".
Mr Miller added it was wrong to stop the families from attending the trial and also attacked the UK government for an alleged failure to keep relatives informed, saying they had heard nothing on the day of the trial.
In February, Iraqi authorities took eight people into custody over the deaths. Six had charges against them dropped and only two stood trial.
It is understood one defendant is to be detained for further investigation over allegations he used a dead soldier's gun. The court said it would pursue theft charges. The other man has been released.
The BBC's Jim Muir, who was in court, said that in a highly unusual twist, prosecutors asked for the murder charges to be dropped after admitting the evidence was not very convincing.
In proceedings lasting about two hours the court heard testimonies from 11 witnesses, mostly Iraqi police, but none of them said they had seen the defendants kill the Red Caps.
The British Embassy in Iraq said it would continue to press for the prosecution of those responsible.
An MoD spokesperson said: "We know that the families of the six servicemen will be devastated by today's events and our thoughts remain with them.
"Seven further arrest warrants remain outstanding and are being actively pursued by the Iraqi authorities. We will continue to do all we can to press for the prosecution of those responsible."
The Red Caps who died alongside Cpl Miller were L/Cpl Benjamin Hyde, of Northallerton, North Yorkshire, Sgt Simon Hamilton-Jewell, 41, from Chessington, Surrey; Cpl Russell Aston, 30 from Swadlincote, Derbyshire; Cpl Paul Long, 24, from Tyne and Wear, L/Cpl Tom Keys, 20, from Bala, North Wales.
They had been on a routine operation to train local police, and according to some reports had been playing football with the Iraqi police officers when a crowd of between 400 and 500 people attacked.
The six men were chased into a police station, where they were shot.
Their families have long campaigned for those responsible to be brought to justice.
Before the trial, they were told they would not be allowed access to court. Instead, updates would be e-mailed to them via the British embassy in Baghdad and the Ministry of Defence.
John Hyde, the father of Lance Cpl Benjamin Hyde, questioned the speed of the decision to dismiss the case, saying "these people just haven't been in court long enough to be able to prove their innocence".
Cpl Aston's widow Anna said she would "never be 100% sure" the verdicts were correct and Cpl Aston's father said the verdict denied him "some sort of closure".
The Conservative MP Rory Stewart, a former deputy governor of Maysan province where the attack took place, told the BBC the hearing was a "sad sign about how the Iraqi justice system is operating".
An inquest into the Red Caps' killings in March 2006 found that the men had been given antiquated radios and inadequate ammunition.
The soldiers had 50 rounds rather than the standard 150 rounds and had left base without a satellite phone, meaning they could not call for help.
But the coroner said having and using better communications would not have saved them and found they were unlawfully killed.
The families of the men have been calling for an independent inquiry since then, arguing that negligence by Army personnel led to their deaths.
Related Internet Links
The BBC is not responsible for the content of external sites.