Israeli FM Lieberman: Europe should fix itself first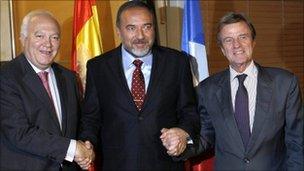 Israel's foreign minister has told visiting European foreign ministers to solve Europe's problems before taking on the Middle East.
Avigdor Lieberman's remarks came during a visit by Bernard Kouchner of France and Spain's Miguel Angel Moratinos.
Earlier, Mr Kouchner had said that the option of the UN Security Council declaring a Palestinian state could not be ruled out if negotiations failed.
The European ministers are due to meet Palestinian and Jordanian leaders.
They are in the region as part of efforts to save the Middle East peace talks, which are in danger of collapsing.
Palestinian officials say they will pull out of talks if Israel refuses to extend its partial freeze on settlement building in the occupied West Bank.
In an interview published on Sunday by the Palestinian newspaper al-Ayyam, Mr Kouchner said that France preferred a two-state solution to be negotiated with Israel, but added that appealing to the Security Council to resolve the conflict remained a possibility.
"We want to be able to soon welcome the state of Palestine to the United Nations... The international community cannot be satisfied with a prolonged deadlock. I therefore believe that one cannot rule out in principle the Security Council option," he said.
But he was told to mind his own business by Mr Lieberman during a meeting later on Sunday.
"Before coming here to tell us how to solve our conflicts, I would expect you could have at least solved all the problems within Europe," Israel's outspoken foreign minister said in comments published in the Israeli media.
Mr Kouchner said that despite its problems, Europe was "an example of problem solving".
The French minister noted that Europe was comprised of 27 countries "who were at war for centuries, but which now get along".
Following a meeting with Israeli Prime Minister Benjamin Netanyahu, he said he was optimistic about a resolution to the Palestinian-Israeli impasse over renewed Jewish settlement building in the West Bank, but said it could take time.
Palestinian leader Mahmoud Abbas has vowed that there will be no further talks until settlement activity halts.
Over the weekend, Arab League foreign ministers agreed to give the US one month to try and break the deadlock.
Israel has refused Palestinian and international demands to extend a 10-month moratorium on new settler homes that expired last month.
About 500,000 Jews live in more than 100 settlements built since Israel's 1967 occupation of the West Bank and East Jerusalem. They are considered illegal under international law, although Israel disputes this.
Related Internet Links
The BBC is not responsible for the content of external sites.