Israel offers building halt if Jewish state recognised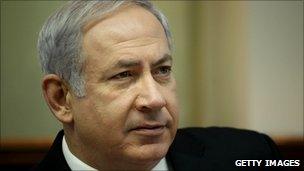 Israeli PM Benjamin Netanyahu has offered to renew a partial freeze on settlement building, if the Palestinians recognise Israel as "a Jewish state".
A Palestinian spokesman has rejected the condition.
Israel has been under international pressure to renew its partial freeze on settlements in the occupied West Bank.
Peace talks between Israelis and Palestinians had been under threat of collapse over the issue.
Palestinian officials have said they will pull out of the talks if the freeze on building in the West Bank, not including East Jerusalem, is not renewed.
The 10-month freeze expired in late September.
Palestinian officials have argued in the past that recognising Israel as a Jewish state would compromise the rights of 20% of the Israeli population that is not Jewish, and cancel the right of Palestinian refugees to return to Israel.
Speaking at the opening of the winter session of the Israeli parliament, Mr Netanyahu said: "If the Palestinian leadership will unequivocally say to its people that it recognises Israel as the national state of the Jewish people, I will be ready to convene my cabinet and ask for another moratorium on building."
He said the offer, and its attached condition, had already been passed to the Palestinians "though quiet channels" and now he was making it public.
He said accepting Israel as a Jewish state would show that the Palestinians "are truly ready to live with us in peace".
A senior Palestinian negotiator said the Palestinians had long ago recognised the state of Israel and that the real issue threatening the talks was illegal Jewish settlements on occupied land.
The BBC's Wyre Davies in Jerusalem says Mr Netanyahu's offer, in a speech to the Knesset, is an attempt to wrest back the initiative in arguments over the settlement freeze.
Palestinian negotiator Saeb Erekat said Mr Netanyahu was "playing games" with his offer, and that there was no connection between Jewish settlements and the national character of Israel.
"I don't see a relevance between his obligations under international law and him trying to define the nature of Israel," he said.
"I hope he will stop playing these games and will start the peace process by stopping settlements."
Israel has occupied the West Bank, including East Jerusalem, since 1967, settling close to 500,000 Jews in more than 100 settlements.
There are about 2.5 million Palestinians living in the West Bank, which the Palestinians see, along with East Jerusalem, as the basis of a future independent state.
The Jewish settlements in both territories are illegal under international law, though Israel disputes this.