Germany seeks release of 'journalists' held in Iran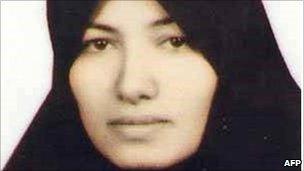 German Chancellor Angela Merkel says her government wants to secure the release of two foreigners arrested in Iran - believed to be German reporters.
Iran said on Monday it had held two "foreign nationals" who it said were activists posing as reporters.
The pair had been interviewing the son of Sakineh Mohammadi Ashtiani, 43, who has been sentenced to death by stoning.
It is thought Ms Ashtiani's son Sajjad and her lawyer may also have been arrested.
Mrs Merkel said that foreign ministry officials were working to release the two "foreigners", but that they had so far received little information.
She did not confirm their names, or even that they were German, though that is the suggestion from Iranian sources and the Association of German Journalists.
Iran on Tuesday said the two had entered Iran on tourist visas and therefore did not have the right accreditation to carry out interviews.
"They were arrested because they had a link to a foreign anti-revolution network and their case is under review," said Iranian foreign ministry spokesman Ramin Mehmanparast, adding the two were arrested in the north-western city of Tabriz.
The case of Sakineh Mohammadi Ashtiani has caused international outrage.
She has been convicted of adultery and sentenced to death by stoning.
Iran has temporarily suspended Ms Ashtiani's stoning verdict under international pressure.
But last month, reports surfaced that Iranian courts were instead considering hanging her for the murder of her husband.
Her lawyers insist she is innocent.
Related Internet Links
The BBC is not responsible for the content of external sites.