Media split on Ahmadinejad's arrival in Beirut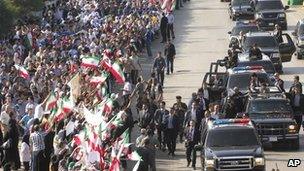 Iran's President Mahmoud Ahmadinejad has arrived in the Lebanese capital Beirut for a two-day visit to the country, including a tour of the tense border area with Israel.
The president's arrival was carried live on Iran's state-owned rolling news channels and showed large crowds holding Iranian flags and balloons as they greeted his motorcade. The visit was the top story on Tehran's English-language Press TV on 13 October, the channel describing the trip as "a major event in the Middle East" that "reveals a new regional power structure".
Lebanese Hezbollah-backed al-Manar TV also showed Ahmadinejad's arrival live, playing an Arabic and Perisan-language song to welcome him to the country. The station told viewers the visit had gone ahead despite "all Israeli and US threats, diplomatic and otherwise, and even by Western parties".
Newspapers in Iran, Lebanon and the Arabic-speaking world noted the start of the visit with varying degrees of support and scepticism.
EDITORIAL IN IRAN NEWSPAPER
So far no measures have ever been effective in Lebanon's political arena in creation of empathy among groups and tribes. Today, Ahmadinejad, as a symbol of unity… is a visitor whom Lebanon is eager to host.
GHOLAM REZA QALANDARIYAN IN QODS
Ahmadinejad's visit creates a situation favourable to the resistance, paving the way for strengthening peace and stability in the country and region... This visit will prove that Tehran exerts influential and exemplary power.
The relationship between Iran and Lebanon can be regarded as the cornerstone of peaceful coexistence among peoples away from the hegemony and exploitation of the colonialists.
MUHAMMAD SADIQ AL-HUSAYNI IN AL-AKHBAR
That Ahmadinejad is to visit the border and tell Israel that 'their home is more fragile than a spider's web' means necessarily that a 'coup' happened or is about to happen, not only in Lebanon, but in the Arab equation as well.
SATI NUR-AL-DIN IN AL-SAFIR
It is not also easy to convince the Shia community that Ahmadinejad arrives in Lebanon today to express gratitude, and not to ask for a reward.
TARIQ AL-HAMID IN AL-SHARQ AL-AWSAT
The visit will help to revive the consciousness of Lebanon and the region regarding the truth about Hezbollah and its links with Tehran… Hezbollah is today celebrating a man who is opposed by half of Iran's population.
ABDALLAH ISKANDAR IN AL-HAYAT
The current visit by Ahmadinejad may signal a new phase in Iran's dealing with Arab countries where it is possible for it to gain a foothold.
ABD-AL-BARI ATWAN IN AL-QUDS AL-ARABI
Ahmadinejad lands in Beirut on a visit that has caused debate among Lebanese due to its timing. The country is in a panic over the expected verdict by a special tribunal on the assassination of (former Prime Minister) Rafiq Hariri, and the effects this may have on the balance of political power.
BBC Monitoring selects and translates news from radio, television, press, news agencies and the internet from 150 countries in more than 70 languages. It is based in Caversham, UK, and has several bureaux abroad.
Related Internet Links
The BBC is not responsible for the content of external sites.