Gilad Shalit: Release talks resume for Israel soldier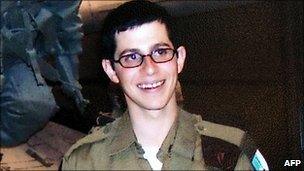 Israeli Prime Minister Benjamin Netanyahu has said fresh efforts are being made to the free captured soldier Gilad Shalit, who is being held by the Palestinian militant group Hamas.
Mr Netanyahu said mediators brokering the release had resumed talks between the two sides after months of deadlock.
However, both Sgt Shalit's father and Hamas said no progress was being made.
Sgt Shalit was was seized during a Palestinian militant raid near Israel's border with Gaza in June 2006.
Mr Netanyahu told Israel Army Radio that the negotiations had resumed within the past few weeks.
He gave no details but said there were "many discrete efforts" taking place to secure the release of Sgt Shalit.
However, Sgt Shalit's father, Noam, told Army Radio there was "no progress and everything is blocked".
He added: "There are efforts, but nothing new because, ultimately, the prime minister has to take the right decisions."
Hamas is demanding that hundreds of Palestinians currently being held in Israeli jails are released in exchange for the soldier.
Mr Netanyahu has given Hamas a list of 1,000 prisoners he is prepared to release, but it does not include all those named by the organisation.
A spokesman for Hamas, Usama Hamdan, said the German mediator in the talks had "nothing new to say", and he blamed Mr Netanyahu for the delays.
"Anyone who attempted to take part in this mediation has come to realise that Netanyahu's position is the reason for the halt, and until now there is no change in Netanyahu's position. This is the gist of our recent contacts with the German mediator," he said.
The Israeli government has faced considerable criticism from within the country that it is not doing enough to free Sgt Shalit.
In July, thousands of Israelis joined an 11-day march across the country - led by the Shalit family - to draw attention to the issue and call for more action.