Iraqi PM Maliki seeks Iran's help in reconstruction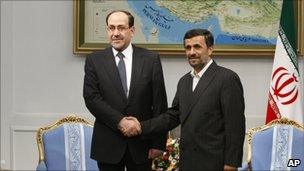 The Iraqi Prime Minister Nouri Maliki is in Iran, on one of several visits to neighbouring countries as he tries to secure a second term.
Mr Maliki is struggling to keep his job after inconclusive general elections in March.
At talks with Iran's supreme leader, Ayatollah Ali Khamenei, Mr Maliki urged Tehran to help rebuild his country.
His chief rival Ayad Allawi has accused Iran of interfering and trying to impose its will on Iraq.
"We ask Iran and our neighbours to support our reconstruction and to boost economic and commercial cooperation, which will help improve stability in our region," Mr Maliki said, according to a statement issued by his office in Baghdad.
"The strategic relations between Iran and Iraq must continue."
Iran's supreme leader, Ayatollah Ali Khamenei, told Mr Maliki that Iraq must settle its political crisis.
"Formation of a government as soon as possible and establishment of full security are among the important needs of Iraq, because development and reconstruction... can't be achieved without these two," Iranian state television quoted Ayatollah Khamenei as saying.
Later the Iranian President Mahmoud Ahmadinejad told Mr Maliki that Tehran "fully supports a united, strong and independent Iraq".
"We hope that by forming the new Iraqi government the long period of hardship will end, and by different Iraqi groups cooperating, the destruction ends and the people achieve prosperity," Mr Ahmadinejad was quoted as saying on Iranian state television's website.
The visit is supposedly an official one, but it is bound to be overshadowed by the political struggle back home, our Baghdad correspondent Jim Muir says.
Earlier this month the political parties broke the world record for the amount of time taken to form a new administration.
As the deadlock continues, many of the main political figures have been out and about in the region trying to solicit support and help tilt the balance their way.
Mr Maliki himself has been in Syria and Jordan, and he is expected to go to Egypt and Turkey after Iran.
Our correspondent says the Iranians are widely perceived as having strengthened his hand by persuading the militant Shia cleric Moqtada Sadr - who has been living in the Iranian city of Qom for several years - to back him with the 40 seats he commands in parliament.
Mr Maliki is due to travel to Qom on Monday, but it is not clear if he will meet Moqtada Sadr.
This visit is sure to provide Ayad Allawi with more ammunition to accuse Iran of interfering and Mr Maliki of being an Iranian stooge, our correspondent adds.
Related Internet Links
The BBC is not responsible for the content of external sites.