Mob storms Kuwaiti TV station critical of ruling family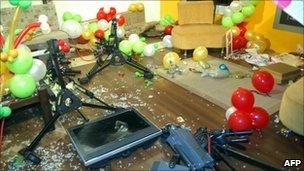 A mob stormed the offices of a private television station in Kuwait on Sunday after it broadcast a programme critical of the country's ruling family.
Mohammed Talal al-Said, executive manager of Scope TV, said some of the attackers were armed with pistols and knives, and injured several employees.
The station said $1m (£600,000) of damage was done to its studios.
On Monday, Interior Minister Sheikh Jabir al-Khalid al-Sabah said some of the assailants had been arrested.
"We will not accept an attack against anybody," he told the Arab Times newspaper. "This is an offensive act and it is not in line with our customs. We are on top of the situation to forestall further degeneration."
Scope TV, a small station with about 70 staff, has come under fire for airing programmes critical of religious leaders and the al-Sabah family.
Its owner, Fajir al-Said, was questioned by prosecutors on Thursday over a complaint by the information ministry about the comedy show, Sawtak Wasal (Your Voice Has Been Heard). She and the station were accused of attempting to overthrow the Kuwaiti government, her lawyer said.
On Saturday, the host of Scope's talk-show, Zayn wa Shayn (Good and Bad), appeared to accuse an al-Sabah family member who is a senior information ministry official of being behind the accusations, Ms Said told the Associated Press.
The next day, a crowd of more than 100 people descended on the station and gained entry by putting a gun to a security guard's head, she said.
"Even if they didn't agree with something we had aired, there is no reason to use force to make their point," Ms Said added.