Netanyahu wants to extend Israel loyalty oath to Jews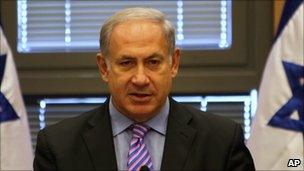 Israel's Prime Minister Benjamin Netanyahu says he wants to include Jews in a bill that so far requires only non-Jews to swear loyalty to the country as a Jewish state when taking Israeli citizenship.
Mr Netanyahu gave instructions to extend the controversial bill, his office said.
The law has angered Israel's Arab minority and Israel's Labour party.
It still has to be passed by the Knesset, the Israeli parliament.
The cabinet had backed the amendment to the Citizenship Law in its current version by a majority vote last week.
However, Mr Netanyahu said on Monday he had instructed Justice Minister Yaakov Neeman to prepare a draft bill that would also require Jews to pledge allegiance to Israel "as a Jewish and democratic state".
The original proposal to require some citizens - mainly Israeli Arabs - to swear allegiance to a Jewish state has proved deeply divisive within Israeli society, and on Saturday thousands protested against the bill in Tel Aviv.
Israeli media reported last week that all five ministers from the left-leaning Labour party voted against the proposal, as did three cabinet members of Netanyahu's own Likud.
It had been welcomed by right-wing ministers in the coalition cabinet, including ultra-nationalist Foreign Minister Avigdor Lieberman.
Recognition of Israel as a Jewish state is one of Israel's key demands in any eventual peace deal with the Palestinians.
The Palestinians, in the form of the Palestinian Authority, have agreed to recognise Israel as a state, but have rejected the demand to recognise its Jewish character.
Related Internet Links
The BBC is not responsible for the content of external sites.