UN envoy survives Iraqi roadside blast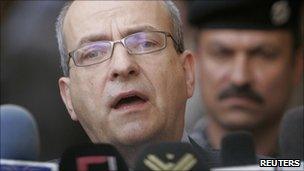 A convoy carrying the UN's top envoy to Iraq has been hit by a roadside bomb, officials say.
Ad Melkert was unhurt, the UN said, but unconfirmed reports said a policeman died and three others were injured.
Iraqi police said the bomb hit the second-to-last vehicle in the convoy as it left the Shia holy city of Najaf, 160km (100 miles) south of Baghdad.
Mr Melkert had been in Najaf to meet Grand Ayatollah Ali al-Sistani, Iraq's most revered Shia cleric, the UN said.
Mr Melkert, a Dutch politician, was appointed special representative for Iraq by UN Secretary General Ban Ki-moon in 2009.
Mr Ban condemned the attack, but said in a statement that it "would not deter the [UN] from continuing its efforts to assist the Iraqi people on their path to reconciliation and prosperity."
The UN scaled down its presence in Iraq following the bombing of its Baghdad headquarters in 2003.
The attack killed then-UN envoy Sergio Vieira de Mello and 21 staff members.
The BBC's Jim Muir in Baghdad said it was not clear if Tuesday's attack targeted Mr Melkert or an Iraqi police chief who was also in the convoy.
The convoy, made up of UN and police vehicles, had been on his way to the airport.
"We cannot speculate on what was the motive," a UN spokeswoman said, adding that Mr Melkert had returned safely to Baghdad.
Our correspondent said the attack comes as some Iraqis look to the UN to play a stronger role in breaking political deadlock in the country seven months after indecisive elections.
Violence in Iraq has fallen sharply, but attacks by Sunni insurgents and some Shia militia groups continue on a daily basis.
Related Internet Links
The BBC is not responsible for the content of external sites.