Iran to try US hikers accused of spying in November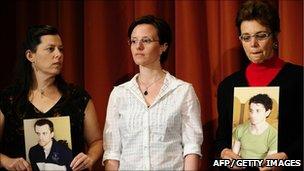 An Iranian lawyer says the trial of three American hikers accused of spying will begin in early November.
Two of the hikers are being held in a Tehran prison, while a third, Sarah Shourd, returned to the US after her release on bail in September.
The Iranians arrested the three in July 2009 after they strayed across the border from Iraq.
The US Secretary of State, Hillary Clinton, has said there is no basis for a trial.
Speaking on Tuesday, she demanded that the two hikers still in custody, Shane Bauer and Josh Fattal, be released on humanitarian grounds.
"We regret that they and their families are being subjected to a criminal system that we do not think in any way reflects their actions," she said, adding that it was "unfortunate" the pair had been held for more than a year.
The lawyer representing the hikers' families, Masoud Shafii, said a trial date of 6 November has been set, in an interview with the BBC's Persian-language service.
He said the three faced charges of espionage and illegally entering the country.
Mr Shafii added that the trial would be conducted by Abol Qasem Salavati - a judge who presided over the trial of dozens of political activists accused of organising street protests after elections last year.
Correspondents say that given the risks, it is very unlikely Ms Shourd will return to Iran for the proceedings.
The three have always maintained that they accidentally crossed over the border into Iran from Iraq while hiking in the mountains of Kurdistan.
Related Internet Links
The BBC is not responsible for the content of external sites.