President Hosni Mubarak sets Egypt election date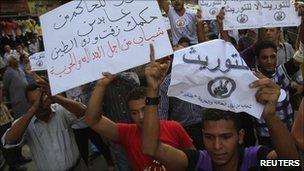 President Hosni Mubarak has set 28 November as the date for Egypt's parliamentary elections, a decree cited by the state-run Mena news agency says.
For the first time, 64 seats in the 518-member chamber have been created, which can only be contested by women.
Some opposition parties have called for a boycott of the vote, saying that it will neither be free nor fair.
But Egypt's main opposition group, the Muslim Brotherhood, is taking part, along with a host of smaller parties.
The Islamist group, which is banned, won 20% of the seats in parliament in 2005 by fielding candidates as independents.
Dozens of Brotherhood members have been arrested in the run-up to next month's vote, seen as a test of government restrictions on political opponents before a 2011 presidential election.
President Mubarak, 82, has ruled Egypt for 30 years but has not yet said whether or not he will stand for a sixth term.
On Tuesday, Egypt's main satellite operator, Nilesat, said it had shut down 12 private television channels on grounds of violating broadcasting licenses.
Last week, Egypt's telecom regulator introduced new rules that require companies which send out bulk text messages - known as SMS aggregators - to obtain licenses.
Activists say the move will limit opposition efforts to mobilise voters ahead of the upcoming elections.
Related Internet Links
The BBC is not responsible for the content of external sites.