Egypt's Hosni Mubarak to seek sixth term: NDP official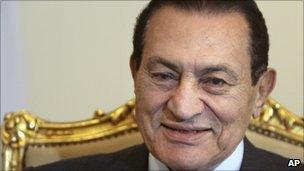 Egyptian President Hosni Mubarak will stand for re-election next year despite rumours about his health, a senior ruling party official has said.
"The National Democratic Party (NDP) candidate will be President Hosni Mubarak," the party's media chief Ali Eddin Hilal told Alhurra TV channel.
Mr Mubarak has been in power since 1981. He will be 83 years old when the election is held next October.
Speculation is rife that his son Gamal is being groomed to succeed him.
But Mr Mubarak has not publicly commented on his own intentions or his son's possible candidacy.
In an interview with Alhurra, an Arabic-language US-funded satellite TV channel, Mr Hilal said that President Mubarak was the party's candidate for the 2011 elections.
He later told reporters that President Mubarak's candidacy was "the will of the leadership of the party", but did not elaborate.
It is the strongest signal to date that President Mubarak will stand for re-election next year, says the BBC's Jon Leyne in Cairo.
The formal nomination will not take place until a month or two before the election, a timetable perhaps to allow final assessment of the president's state of health, our correspondent says.
There has been speculation about Mr Mubarak's health after he went to Germany for gall bladder surgery in March, but in recent months he has maintained an active schedule, perhaps to allay those fears, he adds.
The Egyptian authorities have also confirmed that parliamentary elections are to be held on 28 November.
There has already been a tightening of media restrictions in anticipation, including the closure of a number of private television channels.
New controls have been introduced on the SMS text messaging system and there has been a round-up of the banned Muslim Brotherhood opposition movement.
Observers say the government wants to maintain tight control of the parliamentary elections as rehearsal for the presidential contest next year.
Related Internet Links
The BBC is not responsible for the content of external sites.