Shia group holds strong position in Bahrain elections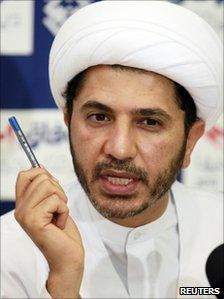 Bahrain's main Shia opposition group has won 18 out of 40 seats in the lower house of parliament, the electoral commission says.
The al-Wifaq group managed to keep all its seats in the first round of elections on Saturday.
The precise make-up of the lower house will be decided in a run-off next weekend.
The election came amid rising tension between the dominant Sunni Muslim community and majority Shia Muslims.
Authorities in the island kingdom rejected accusations by al-Wifaq that hundreds of its supporters were prevented from voting.
Justice Minister Sheikh Khalid Bin Ali Al Khalifa said there had been a few irregularities, but overall the vote had been fair.
The estimated turnout was "at least 67%", he said.
Correspondents say in this election - only the third such vote since Bahrain became a constitutional monarchy in 2002 - the main contest has been between Islamists and those with a more secular vision for the Gulf state.
The government has also been criticised for arresting dissidents and curtailing media and internet freedom.
The BBC's Middle East correspondent, Jon Leyne, says the Kingdom of Bahrain is one of the more democratic countries in the Arab world.
But it is a limited democracy, he adds, with the elected members of the lower house, the Council of Representatives, only holding restricted powers.
The upper house, the Shura Council - all of whose members are appointed by the royal family - can and does over-rule the lower house, and is a major source of complaints by democracy campaigners and opposition politicians. In addition, King Hamad appoints all ministers without parliamentary scrutiny.
Our correspondent says the main election contest will be between Islamists, and those politicians with a more secular outlook.
The long-running conflict between the Shia majority and the ruling Sunni minority has also once more come to the fore, with a series of protests by Shia complaining about their "second-class" status.
In the outgoing parliament, Sunni groups have 13 seats, independent pro-government MPs hold nine seats.
Related Internet Links
The BBC is not responsible for the content of external sites.