Gaza flotilla was Turkish provocation: Livni to inquiry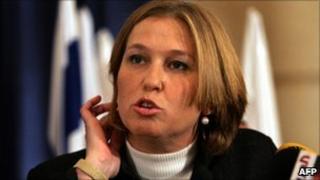 Israeli opposition leader Tzipi Livni has accused Turkey of deliberately provoking Israel by supporting a Gaza-bound aid flotilla earlier this year.
Mrs Livni was testifying before an Israeli inquiry into the 31 May raid that left nine Turkish activists dead.
She accused Turkey of exploiting a "political vacuum" in order to lend legitimacy to the Hamas rulers of Gaza.
Ankara has demanded compensation and an apology from Israel for the deaths, which caused an international outcry.
It has dismissed the Israeli panel - known as the Turkel Commission - as lacking in scope and legitimacy.
In the wake of the outcry over the raid, Israel began allowing most consumer items into Gaza, but still maintains a complete air and naval blockade, limits the movement of people, and bans exports. It also restricts the import of construction materials and any other items that could have a military use.
Israel says the measures are needed to stop weapons being smuggled to the militants from the Islamist Hamas movement, but the UN says they amount to collective punishment of Gaza's 1.5 million people.
'Propaganda tactic'
Mrs Livni, who acted as the foreign minister and deputy prime minister in the previous Israeli government that imposed the tightened blockade, told the inquiry she wanted to testify to "bolster the legitimacy of Israel's actions during the flotilla".
She said the flotilla had succeeded in garnering world support because of the lack of peace talks with the Palestinians at the time.
"At a certain stage, Turkey took advantage of the political vacuum, with the provocative aim of creating legitimacy for Hamas," she was quoted as saying by Israeli media.
Nine Turkish pro-Palestinian activists were killed and many others injured after Israeli commandoes boarded the six-ship convoy as it tried to breach an Israeli naval blockade of Gaza.
The Turkel commission, which was set up in June, has a mandate to look into the legality of the raid, which the UN Human Rights Council has called a violation of international law.
The UN fact-finding mission also said the Israeli blockade of the Palestinian territory was unlawful because of a humanitarian crisis there.
Public appeal
On Sunday, the Israeli commission released a public request for people who were on board the Mavi Marmara to come forward to offer their testimony.
So far, the pro-Palestinian activists and Turkish organisers have refused to co-operate, calling the Israeli inquiry biased and inadequate.
Two Arab Israeli passengers have been ordered to testify later on Monday, despite their earlier attempts to boycott the government-run panel.
A separate UN inquiry - ordered by Secretary General Ban Ki-moon - is also being carried out.
Israel says its soldiers fired in self-defence after they were attacked with clubs and knives, but activists say the Israeli commandos opened fire as soon as they rappelled from helicopters on to the Mavi Marmara's deck in international waters.