Gulf states urge US to probe Wikileaks Iraq 'crimes'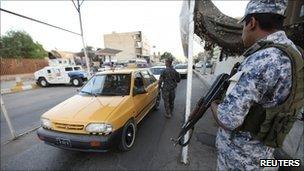 The Gulf Co-operation Council (GCC) has urged Washington to investigate alleged "crimes against humanity" in Iraq after Wikileaks published scores of war logs.
The documents revealed by the whistleblower website suggest US forces turned a blind eye to widespread torture by Iraqi security forces.
In a statement, the council said the US was responsible for any alleged torture and killings committed by its troops.
The Pentagon has said it has no plans to reinvestigate the alleged abuses.
It insists that it has acted in accordance with international law, with reports being passed to superiors and, at the appropriate level, to the Iraqis.
The GCC is made up of six Arab countries - Bahrain, Kuwait, Oman, Qatar, Saudi Arabia and the United Arab Emirates.
Although the GCC had opposed the US-led invasion of Iraq in 2003, its member states are traditional allies of the US, who share close economic and military ties.
However, the Sunni-dominated Gulf states have been alarmed by the growing Iranian influence in Iraq following the overthrow of Saddam Hussain and the inability of Iraqi politicians to form a stable government.
"The US is requested to open a serious and transparent investigation into the information contained in these documents on the commission of crimes against humanity" in Iraq, GCC secretary general Abdulrahman al-Attiyah said in a statement in Arabic on the group's website.
The United States was responsible for any "abuse and crimes committed by its troops in Iraq", he added.
On Friday, Wikileaks published nearly 400,000 reports that describe the apparent torture of Iraqi detainees by members of the Iraqi security forces. They include reports of summary executions, attacks with acid and electric drills, beatings and mutilations.
US military spokesman Col Dave Lapan earlier told the BBC that it had no plans to reinvestigate the alleged abuses, and that its policy was consistent with the UN Convention Against Torture.
He stressed that when the allegations involved the abuse of Iraqis by Iraqis, the role of American soldiers was to "observe and report" what they had seen to their superiors - who would then pass on the evidence to the Iraqi authorities.
The latest controversy comes as the US military prepares to withdraw all 50,000 remaining troops from Iraq by the end of 2011.
Related Internet Links
The BBC is not responsible for the content of external sites.