Palestinians work on West Bank settlement boom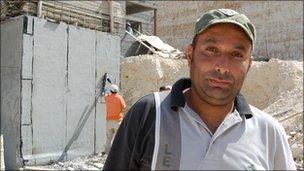 Every morning, before daybreak, huge queues form at Israeli-controlled checkpoints. Palestinian men literally climb over each other hoping to secure a day's wage working as labourers in Jewish settlements.
For men like Abdel Salam Alami it is good, well-paid work. They even get insurance if they're injured on the job. Yet this construction is extremely controversial.
The issue of settlements is at the heart of the faltering peace talks.
The Palestinians say they take up land needed for a viable future state. The international community says they are obstacles to peace.
Israel is under pressure to renew at least the partial freeze on building in the occupied West Bank, which expired last month.
The irony that thousands of Palestinian workers are helping to build Jewish homes that are seen as illegal under international law is not lost on Mr Alami but he insists there's no comparable work in the Palestinian areas.
"I agreed with the settlement freeze and if the Palestinian Authority was to offer us alternative work, earning the same money, I'd be the first to stop working here," he says, as he takes a break in the Jewish settlement of Newe Daniel.
A comprehensive survey from the Israeli human rights group, Peace Now, due out soon, is expected to show that since Israel's 10-month moratorium ended, work has begun on more than 600 new Jewish homes in the West Bank.
The rate of construction is four times faster than before the freeze began.
There are now thought to be about 500,000 Jews living across the occupied West Bank, including East Jerusalem, in more than 100 settlements.
For Shaul Goldstein, the mayor of Gush Etzion, one of the oldest Jewish settlements in the West Bank, the number of new homes that have or have not been built since the end of the freeze is academic.
This, he says, is Jewish land and settlers are in a hurry to build again.
"We have it, it's ours. We didn't steal it from anyone else. This land was bought in the 30s from Arabs. It's our land we can build on it. So from my point of view those people should build as fast as they can," Mr Goldstein says.
Every day some 20,000 Palestinians leave towns and villages across the West Bank, where there are few economic opportunities, to go and work in settlements.
It is a practice the Palestinian Authority says it is determined to stop.
The Palestinian Economy Minister, Ahmed Majdalani, has little sympathy for men like Mr Alami. He maintains they should be helping to build the Palestinian economy rather than inadvertently strengthening the Israeli occupation.
"There's plenty of work in our own projects like the new (West Bank) town of Rawabi," says Dr Majdalani - although he admits the Palestinian Authority cannot match the salaries being paid in the settlements.
Back at home, in the village of Beit Ummar with his large extended family, Abdel Salam is well aware of pressure from the Palestinian Authority not to work in the expanding settlements.
But in the West Bank, which is still largely controlled by Israel, he says there are few realistic alternatives and that he will defy any order to give up his highly prized building job.
Related Internet Links
The BBC is not responsible for the content of external sites.