Tariq Aziz: Profile of former Iraqi deputy PM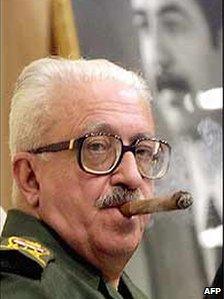 Former Deputy Prime Minister Tariq Aziz was the face of Saddam Hussein's regime on the world stage for many years.
Aziz, now 74, first came to world prominence with his fluent English, trademark black-rimmed glasses and Cuban cigars while serving as foreign minister during the first Gulf War in 1991.
Aziz - a Christian in a mainly Sunni Muslim government - was not considered a member of Saddam Hussein's innermost circle, which was dominated by members of the Tikriti clan.
Shortly before the US-led invasion of Iraq in 2003, he tried to drum up international support for Iraq. He met the late Pope John Paul II to call for peace.
The Eight of Spades came 43rd in the United States' set of 55 playing cards depicting "the most-wanted members of the former Iraqi regime".
He surrendered into US custody days after the invasion.
Little has been heard from Aziz during his time in custody - though he did appear in court in 2007, during the trial of three other leading regime members, speaking in defence of Saddam Hussein.
He is reported to be in extremely poor health.
Tariq Aziz was born in 1936 near Mosul, northern Iraq. His family circumstances were humble - his father was a waiter.
The young Aziz studied English literature at university in Baghdad before pursuing a career in journalism and becoming editor of the Baath Party's main newspaper.
This stood him in good stead for his first ministerial role, as Iraq's minister of information in the 1970s.
In 1977, he joined the Revolutionary Command Council - the committee of senior Baath Party officials which effectively ruled Iraq.
At home, Aziz managed to survive shifting fortunes, from Saddam's political purges to an assassination attempt by Iranian-backed radicals in 1980.
He was said by those who knew him to be calm, articulate and suave.
Aziz's trademark cigars - and his glasses and moustache - have repeatedly drawn comparisons with the US movie star, Groucho Marx.
Aziz played the role of diplomat at key moments in Iraq's history.
He managed to enlist American support for Baghdad in its eight-year conflict with Iran, and to forge strong economic ties with the Soviet Union.
In 1984, Iraq and the US restored diplomatic relations after a meeting at the White House between Aziz and the late President Ronald Reagan.
Aziz became an instantly-recognisable figure in the world media after the invasion of Kuwait in 1990 and the first Gulf War that ensued.
He embarked on a frantic round of visits to foreign capitals to drum up support for Baghdad and held talks with US Secretary of State James Baker.
Shortly before hostilities started, Aziz famously refused to accept a letter from the then President George Bush to Saddam Hussein at a meeting in Geneva with Mr Baker, signalling the inevitability of military action.
Since his incarceration, Aziz has been sentenced to 15 years for the executions of 42 Iraqi merchants, and a further seven years for his role in the forced displacement of Kurds.
On 26 October he was sentenced to death by the Iraqi Supreme Court - in connection with the persecution of religious parties, it said in a statement.