Egypt holds Brotherhood supporters over poll posters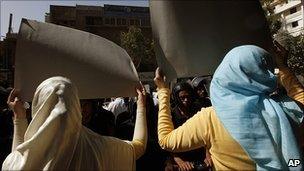 Egyptian security forces have detained about 70 people as they put up election posters for the outlawed Muslim Brotherhood in Alexandria.
A security official said the posters breached a law against using religious slogans for election purposes.
However, a spokesman for the Muslim Brotherhood said posters for Egypt's governing party quoting Koranic verses were left untouched.
Egypt holds parliamentary elections on 28 November.
The Muslim Brotherhood is Egypt's biggest opposition movement but was banned in 1954.
However, it won 20% of the seats in parliament in 2005 by fielding candidates as independents.
The Islamist group has since faced a heavy government crackdown and some of its senior figures have been detained.
Muslim Brotherhood MP Hussein Ibrahim said the posters - for a female candidate - used the phrases "God is great" and "Praise be to God" which he said are common phrases not associated exclusively with the group.
"This is the beginning of a blatant election fraud since the ruling party candidates' posters were left untouched although they contained full verses of the Koran," he added.
Correspondents say Alexandria is a Muslim Brotherhood stronghold and expected to have one of the most heated races.
The detentions bring the number of Muslim Brotherhood members held to about 250 since the group announced on 9 October it would take part in the elections. Most have since been released.
President Hosni Mubarak, 82, has led Egypt for 29 years but has not yet said whether or not he will stand for a sixth term.
His governing National Democratic Party (NDP) dominates parliament.
Muslim Brotherhood candidates are standing in a third of the 508 seats up for grabs in the poll, despite calls by other opposition groups for a boycott.
Related Internet Links
The BBC is not responsible for the content of external sites.