Ruler of UAE emirate of Ras al-Khaimah dies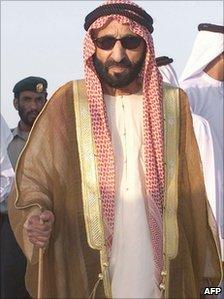 The ruler of the UAE emirate of Ras al-Khaimah has died, official reports say.
Sheikh Saqr bin Muhammad al-Qasimi, who was in his early 90s, died at dawn following several months in hospital.
The official news agency, Wam, says he will be succeeded by his son, Crown Prince Sheikh Saud who has effectively ruled the emirate since 2003.
Analysts say the succession should go smoothly, but there are fears of a power struggle between Sheikh Saud and his elder half-brother, Sheikh Khalid.
Sheikh Khalid was the crown prince of Ras al-Khaimah until 2003, when he was sidelined in favour of the US-educated Sheikh Saud.
"In the coming days and weeks I will be meeting with my family and friends and members of the Supreme Council, rulers of the emirates, outlining my agenda for the first 100 days of my lawful leadership pursuing legal implementation of my father's vision for RAK," he said in the video, which carried English subtitles.
But observers say he is unlikely to win power as he has little support from tribal leaders in Ras al-Khaimah or the rulers of the other UAE emirates.
The UAE federal authorities have moved quickly to forestall any challenges to the succession.
The Federal Supreme Council, made up of the rulers of each of the UAE's seven emirates, announced its "full support" for Sheikh Saud, 54, as Ras al-Khaimah's new leader in a statement carried by Wam.
Sheikh Saqr had ruled Ras al-Khaimah, the northernmost emirate, since the late 1940s, making him one of the world's longest reigning monarchs.
A week of official mourning has been declared.
The tiny but strategic Ras al-Khaimah emirate is located on the Strait of Hormuz, close to the Iranian coastline.
Related Internet Links
The BBC is not responsible for the content of external sites.