Bahrain opens coup plot trial against Shia activists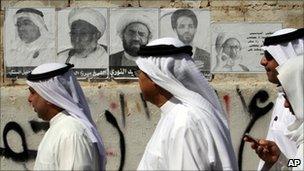 The trial of 25 Shia Muslim opposition activists has opened in Bahrain, five days after a tense general election.
The activists have pleaded not guilty to charges of plotting to overthrow the Sunni-led government and to supporting "terror cells" in the Gulf kingdom.
Some of the accused have told the court that they were tortured behind bars.
Rights groups have criticised the government for arresting dissidents and curtailing media freedoms in the run-up to last Saturday's poll.
The election came amid rising tension between the dominant Sunni Muslim community and Shia Muslims, who make up most of the population but complain that they have been treated as "second-class" citizens for years.
Bahrain's main Shia opposition group, al-Wifaq, held on to their 18 seats in the 40-seat lower house of parliament, but they are not expected to gain enough allies to form a majority in a run-off vote on Saturday.
Security was tight for Thursday's court hearing in the Bahraini capital, Manama.
The original 23 suspects - whose names were splashed across state media last month - were unexpectedly joined by two other defendants, including a prominent blogger, the AP news agency said.
The men were charged with forming an illegal organisation, resorting to terrorism, financing terrorist activities and spreading false information, according to the indictment.
The authorities in Bahrain accuse Shia activists of links to Iran and of wanting to end the Sunni monopoly over political power in the Gulf state.
Among those on trial is British citizen Jaffar al-Hasabi, a 38-year-old London minicab driver.
His lawyer, Mohamed al-Tajer, has told the BBC that he was beaten all over his body and hung from his hands and feet while in detention. Bahraini officials deny charges that any of the detainees have been mistreated.
Other accused coup plotters include prominent rights activist Abd al-Jalil Singace, who was taken into custody in August when he returned from London with his family, and blogger Ali Abdulemam, whose case has been taken up by media freedom groups.
All face possible life sentences if convicted.
Bahrain has been hit by sporadic unrest for decades as Shias - who make up 70% of the country's 530,000 citizens - press for greater political power.
Political reforms - including parliamentary elections - in the past decade have opened more room for Shias, but they complain the Sunni-directed system still excludes them from any key policymaking roles or top posts in the security forces.
Related Internet Links
The BBC is not responsible for the content of external sites.