No breakthrough in Mid-East peace talks - Egypt envoy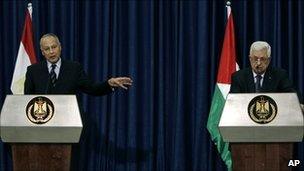 During a rare visit to the West Bank, the Egyptian foreign minister said there had been no breakthrough in efforts to revive Mid-East peace talks.
Ahmed Aboul Gheit reiterated Arab support for Palestinian leader Mahmoud Abbas's demand that Israeli settlement building be frozen ahead of new talks.
Israel has refused to renew the freeze despite pressure from Washington.
Mr Abbas said he was still mulling an appeal to the UN, but said his first choice would be to return to talks.
"We have discussed our options... but our first option is to return to direct negotiations if Israel halts all settlement activity," Mr Abbas said.
The talks, which resumed in Washington in September after a break of almost 20 months, are facing imminent collapse in the bitter row over settlement building.
Israel has occupied the West Bank, including East Jerusalem, since 1967, settling close to 500,000 Jews in more than 100 settlements. They are considered illegal under international law, although Israel disputes this.
The Palestinians - backed by the Arab League - have pledged not to return to direct talks without a full settlement construction freeze, but have given US negotiators until early November to try to break the impasse.
Mr Aboul Gheit and Egypt's intelligence chief Omar Suleiman travelled to Ramallah following a meeting with Jordan's King Abdullah II.
Both Egypt and Jordan are seen as key brokers for any peace deal.
"The goal is achieve the Palestinian demand, which has Arab support, for a complete halt to settlements in order to clear the way for a return to negotiations," Mr Aboul Gheit told reporters in Ramallah.
"We are still working with the Americans and the Israelis, but until now there has not been the desired breakthrough," he said.
Israeli Prime Minister Benjamin Netanyahu has been under pressure from the US government to extend the slowdown.
Earlier this month, Mr Netanyahu offered to renew the freeze if the Palestinians recognised Israel as a Jewish state, but the Palestinian leadership dismissed the proposal as unfair and unnecessary.
Related Internet Links
The BBC is not responsible for the content of external sites.