Hezbollah's Nasrallah urges Hariri tribunal boycott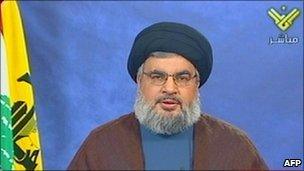 The head of the Lebanese Islamist group Hezbollah has urged his countrymen to boycott the UN tribunal into the 2005 killing of former PM Rafik Hariri.
Sheikh Hassan Nasrallah accused the investigators of sending information to Israel.
He had previously described the tribunal as part of an Israeli plot against Hezbollah.
The tribunal has not yet said who will be indicted.
"I call on every Lebanese official and every citizen to boycott these investigators and not to co-operate with them," said the Hezbollah chief.
"All the information and data and addresses (they get) is sent to Israel."
"From now on, any co-operation with the international investigators will be (considered as) helping them to attack [Hezbollah]," he added, in a video-linked speech broadcast on Hezbollah's al-Manar television channel.
His comments came a day after two tribunal investigators were attacked by a group of angry women at a gynaecology clinic in a Hezbollah-controlled suburb of Lebanon's capital, Beirut.
Meanwhile the US ambassador to the UN accused Hezbollah and its allies, Syria and Iran, of endangering Lebanon's stability and independence.
"Syria especially has displayed flagrant disregard for the sovereignty, territorial integrity, unity and political independence of Lebanon," said Susan Rice after the UN Security Council held closed-door discussions on Lebanon.
She accused Syria of arming Lebanese militias, including Hezbollah, with increasingly sophisticated weapons. Syria rejected the allegations.
The special international tribunal into Hariri's assassination was set up under UN auspices to investigate the massive bomb explosion hit the magnate's motorcade in Beirut in February 2005, killing the former prime minister and 22 others.
At the time, many Lebanese blamed Syria, an ally of Hezbollah. Damascus denied the accusation but eventually the killing led to the withdrawal of its troops from Lebanon after a military occupation of 29 years.
Mr Nasrallah has been accused of trying to pre-empt a UN report that is expected to implicate Hezbollah in the killing.
In August, he said he had evidence of Israeli involvement in the murder, including footage from Israeli spy planes of routes used by Mr Hariri.
But he said he would not hand the material to the investigating tribunal, saying he did not trust it.
The previous month, he said he had been told investigators would indict individuals from Hezbollah in the Hariri assassination, describing the tribunal as part of an Israeli plot against Hezbollah.
Last April, four Lebanese generals accused of Mr Hariri's murder were released from custody because the evidence against them was deemed to be insufficient.
In 2008, 100 people died in clashes between Hezbollah and supporters of Rafik Hariri's son Saad, now Lebanon's prime minister.
Related Internet Links
The BBC is not responsible for the content of external sites.