Israel approves pullout from Lebanon border village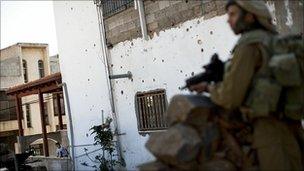 Israel's cabinet has approved the withdrawal of its troops from the northern half of a village deemed by the UN to be inside Lebanon.
Ghajar is split by the UN blue line, the de-facto border between Lebanon and the Israeli-occupied Golan Heights.
Details of the plan will be worked out with UN peacekeepers in the next month, the prime minister's office says.
Pulling out of the village will fulfil Israel's obligations to the UN, but will cut the village in two.
About 2,000 people live in Ghajar, a picturesque hillside village which is partly in Lebanon and party in the Israeli-occupied Golan Heights.
Israel captured Ghajar, along with the Golan Heights, from Syria in the 1967 Six Day war.
A later UN demarcation of Lebanese territory took in northern Ghajar, leaving the southern part under Israeli control. Even when Israel's military occupation of southern Lebanon ended in 2000, its troops remained in Ghajar, citing security concerns.
Families are spread out on either side of the UN blue line, and the school and municipal buildings are in the Israeli area, says the BBC's Wyre Davies from the border town.
Most of the villagers still consider themselves Syrian, although many have taken Israeli citizenship during the long years of occupation. The majority are opposed to being under Lebanese control.
Following Wednesday's vote by Israel's security cabinet, control of northern Ghajar will be handed over to the UN Interim Force in Lebanon (Unifil), whose mandate is to keep peace in the tense border region.
Israeli sources have told the BBC that a final deal will likely see Unifil troops stationed along the village's northern edge, while Israeli soldiers will deploy along its south. Residents will be able to move freely inside the village, they said.
The details of the plan will be worked out by Israel's foreign ministry and the Unifil commander, Gen Alberto Asarta, over the coming weeks. Israel's security cabinet will then approve the final agreement, the sources said.
Israel and Lebanon are still technically at war and earlier this year, just a few miles from Ghajar, Israeli and Lebanese soldiers were killed in a gun battle.
Related Internet Links
The BBC is not responsible for the content of external sites.